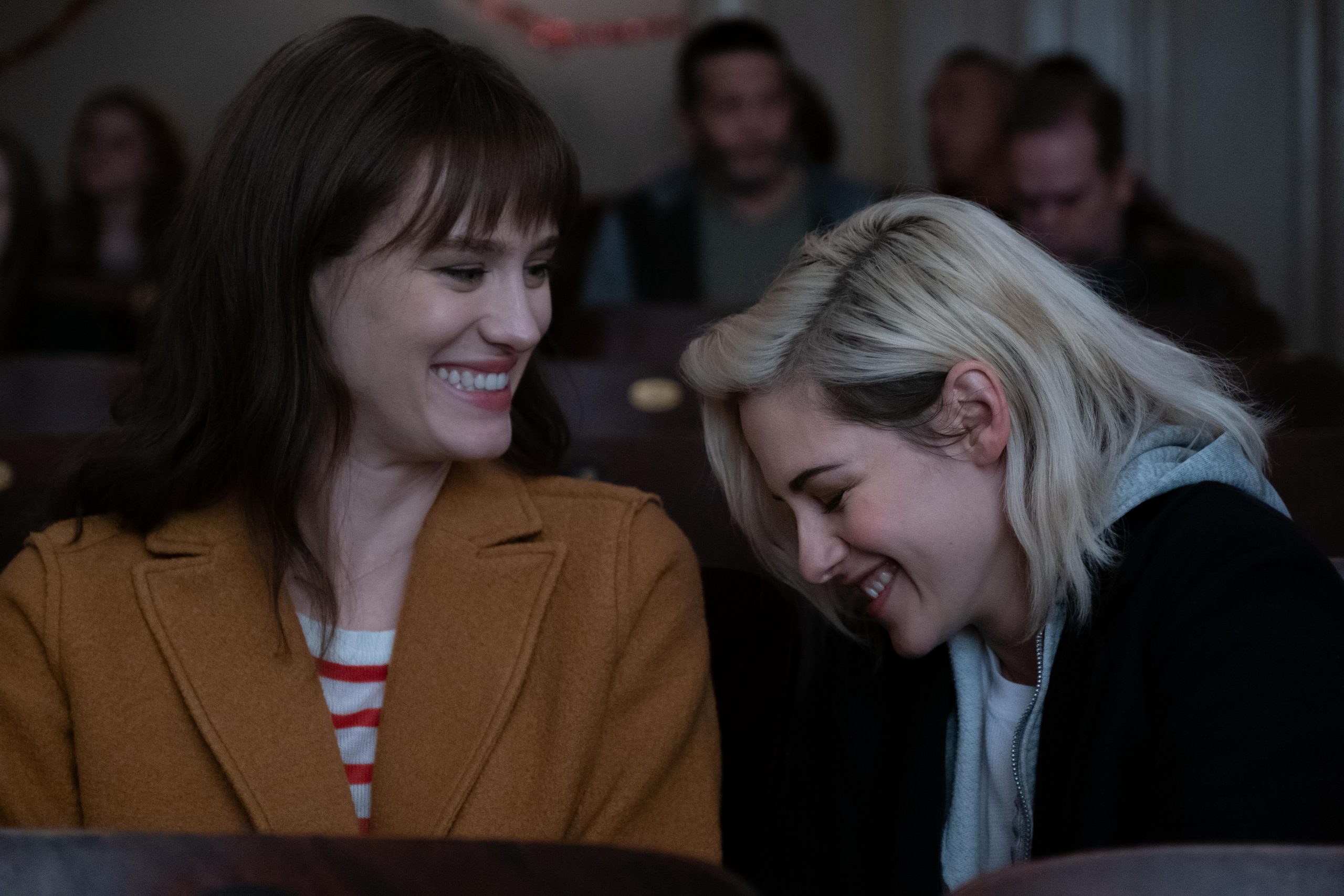 The yuletide has never been gayer. The release of Happiest Season is a big moment for the closeted lovers of women out there who get stuck watching Hallmark's Countdown to Christmas with their mom every year where each film is either about a regular girl falling in love with a seemingly normal guy who's actually a prince or about a rich city boy returning to his hometown and rekindles a romance with an old flame. While Hallmark will be airing their first film featuring a gay couple this season, Clea DuVall's second feature film is the first-ever studio-backed holiday romantic comedy that's centered around a lesbian relationship. It's a Wonderful Life, Love Actually, last year's Last Christmas, heteronormative holiday romance films have dominated our screens, but now, Christmas is for the gays and Kristen Stewart's bleached blonde hair. "All I ever wanted was a holiday movie that represented my experience so I decided to make one," DuVall tweeted. Her latest film is a coming-out story, one that reasserts and validates the unlimited ways this hurdle is experienced on LGBTQ+ people's journey. Set against the backdrop of Christmas, DuVall writing and directing her own experience for a film that stars queer actors delivers an authentic look at this terrifying moment that could only be told by members of this community. 
Abby (Kristen Stewart) and Harper (Mackenzie Davis) are madly in love. Abby's planning to propose and Harper has invited her to spend Christmas with her and her family. Sounds like a magical and memorable holiday season in the making. But here's the catch: Harper hasn't come out to her family yet, something Abby was unaware of. What could be worse than coming out at a big family gathering? A nightmare, surely, and something Harper isn't ready for. And no wonder, her family is the image of the perfect, successful white family who relies heavily on reputation and appearances. It's a dynamic that would make any child feel pressured to live up to their parents and fear the loss of their love. Harper's trapped, and by worrying about what her parents will think, she forgets her own happiness and risks losing Abby. They must hide their relationship in plain sight, a familiar experience to many, especially in the middle school and high school years. But they're adults now, and Abby feels like she's being shoved back in the closet, something that results in frustrations, jealousy, and doubts between the pair. Happiest Season is a holiday rom-com with that familiar mix of drama and surprise that often happens at our own dinner table but wrapped in a narrative about identity, love, family, and that follows an affecting journey of self-acceptance.
Happiest Season jingles right from the start with a song from Sia's iconic Christmas album, and it only gets better from there. It's an impressively charming comedy that doesn't try hard with forced jokes that end up falling flat or are just plain dumb, something that happens way too frequently. Most of the humor comes in the situation's awkwardness, especially in Stewart's performance as Abby steps into a new environment but also has to pretend to be someone she's not. Straight doesn't fit Abby, and neither does it her best friend John (who pretends to be Abby's ex in a fun sequence). Dan Levy is infectious in all his flamboyancy and he delivers a tearjerker of a monologue. These two beloved queer talents make up only a small part of this talented and sprawling cast. Davis is a welcomed presence as she starred in what's perhaps the best piece of LGBTQ+ television: Black Mirror's "San Junipero." Gay actor Victor Garber plays Harper's mayoral candidate father, Ted, and the every fabulous Mary Steenburgen plays Harper's mother, Tipper. Alison Brie plays the uptight and intimidating eldest sister Sloan, and co-writer Mary Holland rounds out the family as the lovable, black sheep middle sister, Jane. There's also some great surprises in the supporting cast, especially Aubrey Plaza as Riley, Harper's ex. It will be hard to find a more delightful and entertaining cast this year. DuVall and Holland have written a script that takes exploring these familial dynamics seriously, and it's especially a treat to witness the differences between the sisters and the tensions that bubble up. 
Happiest Season executes everything we love about the romance, comedy, and holiday genres, and blends them together for the perfect mix of warmth like a hot cup of cocoa, sweetness like a candy cane, and crackle like fiery embers. It's joyous and full of love as it explores, in a tissues-needed way, why two words are so hard and frightening to say for the LGBTQ+ community; the contrast between what happens before and after those words are said and how they can't be taken back. The uncertainty is almost paralyzing and often results in hiding their authentic self which can do more harm than good. But as most films full of holiday cheer do, it lets them know they'll be fine. Hopefully, this is a film families will seek out this Christmas and help to engage in conversations of understanding and acceptance around the dinner table.