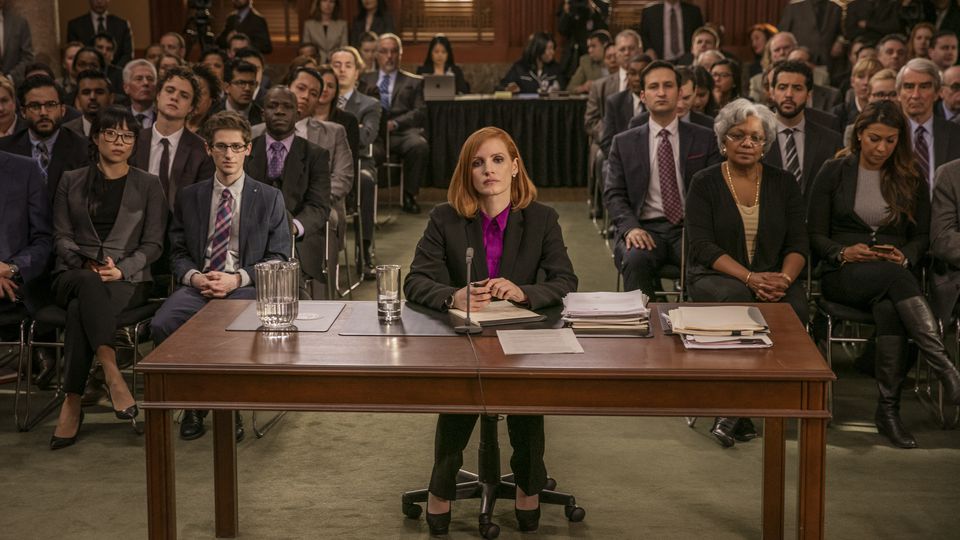 Elizabeth Sloane (Jessica Chastain) is not only at the top of her game but has a reputation as one of the most influential lobbyists in Washington D.C. She is not only respected but also feared as a person you do not want to cross if you want a long career in politics. She currently works for a major firm in D.C. when she is given the biggest challenge of her career.
Miss Sloane's new fight is with the National Rifle Association (NRA) in an effort to get gun control legislation passed. Her new boss, Rodolfo Schmidt (Mark Strong) convinces her to leave her firm who represents the NRA to now beat them at their own game. She is now facing her old firm as opponents and the stakes are very high. The outcome could not only make her career but also break it with a blink of an eye.
I must admit I was initially not impressed when I saw Jessica Chastain would take on the role of Miss Sloane. After watching the film, I must admit I was very wrong. Jessica Chastain delivers a powerful performance as the win at all costs with a heart as cold as ice lobbyist. During the entire film, as you peel back the layers of who Miss Sloane is, or who we think she is, you begin to wonder how could a person become so ruthless.
Overall, I really enjoyed the film and the twists and turns that came along with it. There were some moments in which the drama became a bit boring and dragged along, but it did keep my attention the entire time. Given our current political situation, this movie will really make you wonder how did we get to this point with our government? I would recommend you definitely PAY to see this film in theaters.
Miss Sloane hits theaters today! Purchase your tickets at Fandango to ensure you don't get sold out. Have you seen Miss Sloane? Share your thoughts on the film below!