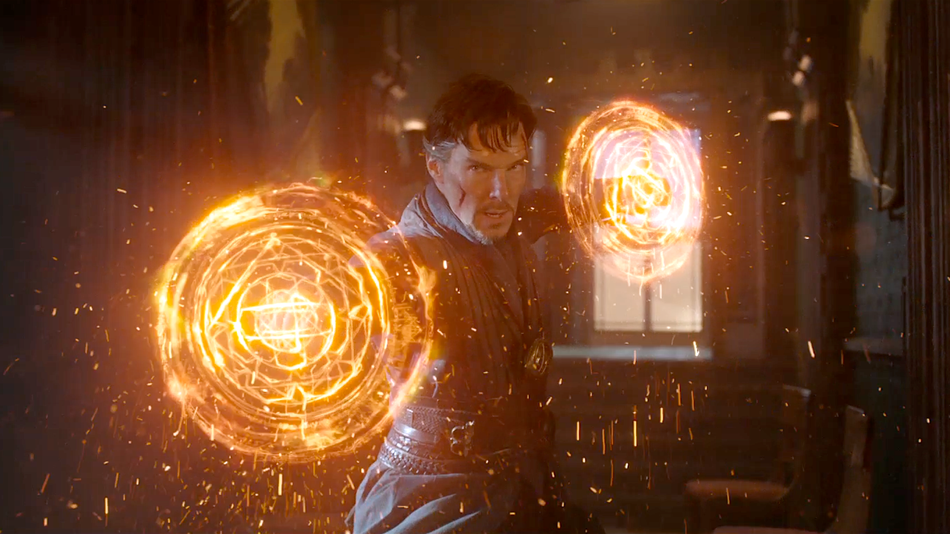 Doctor Strange makes its introduction into the Marvel Cinematic Universe's as the most trippy movie yet. Doctor Stephen Strange (Benedict Cumberbatch), is an arrogant yet brilliant neurosurgeon who is quickly forced to humble himself once he injures his hands in a car accident. He depletes almost all of his fortune with experimental surgeries and treatments to restore full function into his hands. He hears about a patient, Jonathan Pangborn (Benjamin Bratt) who was able to defy the odds and restore full function to his spine which gave him the ability to walk again, so he decides to go see him. Jonathan sends Doctor Strange on a journey to Nepal in order to help him find healing.
Benedict Cumberbatch is fun to watch in this film. Not only is he charming as Doctor Strange, but he becomes quite the comedian in the film as well. His interactions with Wong (Benedict Wong) are some of the funniest yet awkward ones to watch. The was much concern when it was announced that Benedict Cumberland would take part as the lead role but I promise you there will be no disappointment. While on the topic of controversy, I must mention Tilda Swinton's performance as The Ancient One. Tilda is commanding in her performance as the powerful sorcerer and also does well in her action scenes. Tilda is one of the most compelling characters in the film while so much other talent was underutilized. Chiwetel Ejiofor also does well as one of Doctor Strange's mentors turned sidekick Mordo in the film.
Two of the disappointments in the film are Rachel McAdams as Doctor Strange's love interest Christine Palmer and the villain Kaecilius portrayed by Mads Mikkelsen. Marvel doesn't struggle in many things but in giving the female love interests some material to work with they still have room for improvement. Rachel McAdams is underutilized in this film compared to her other female love interest predecessors. Mads Mikkelsen knows how to play a villain, we know this from his role in Casino Royale. In this film, his character is barely convincing as the true villain once further plot details are revealed.
Overall this movie was visually appealing and fun to watch. The dialogue in the movie provided some good laughs and the imagery was amazing. This movie provides the action you wanted to see in Inception mixed with some magic from Harry Potter. Many will hold this film to be one of the top-ranked origin stories for Marvel to introduce and I would have to agree. I will definitely recommend you PAY to see this film in theaters. Keep in mind there are two bonus scenes at the end of the film so please stay seated.
Doctor Strange hits theaters on Friday, November 4th. This movie will sell out so make sure to go purchase your tickets now from Fandango. If you have seen the movie please share your thoughts below!