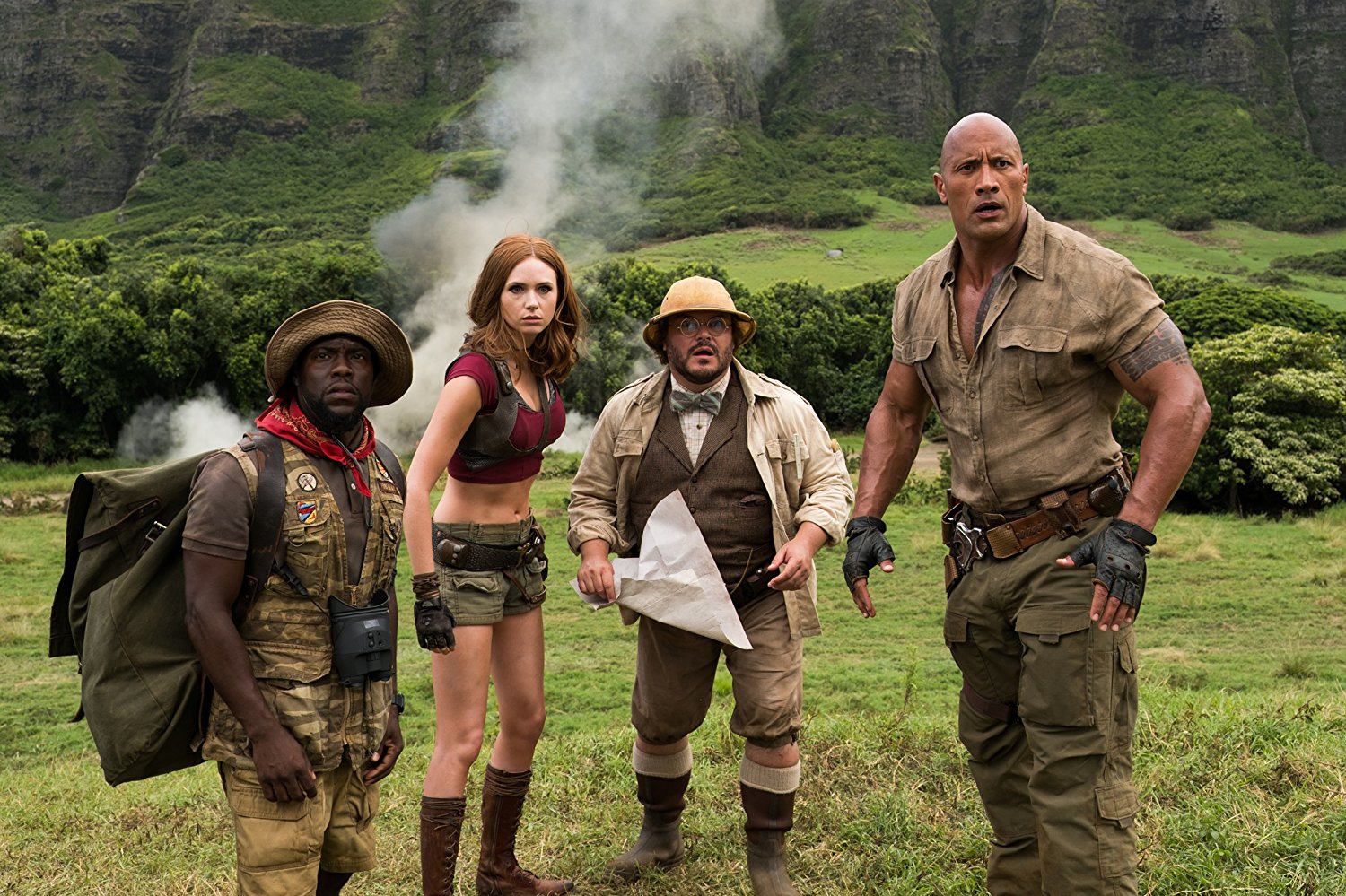 When I first saw the teaser trailer to Jumanji: Welcome to the Jungle, my initial reaction was great another unnecessary sequel. However, as more details of the movie began to come out, I decided to go into the movie with an open mind. My hopes were higher than normal as Amazon Prime gave their members an exclusive early preview of the movie over 2 1/2 weeks before its Christmas release date. The studio had to be confident in the film to be comfortable with screening the movie that early. As I left the theater, I knew the studio was right and Jumanji: Welcome to the Jungle was one of the better sequels I have seen in 2017.
Jumanji: Welcome to the Jungle is the sequel to the 1995 film Jumanji starring the late Robin Williams. We are quickly introduced to a new group of young teens who find themselves trapped in a video game called Jumanji. The decision to turn the board game into a video game was a genius idea and a great addition to this new chapter. For the majority of the film, the teenagers are in their adult video game avatar bodies played by Kevin Hart, Dwyane Johnson, Jack Black, and Karen Gillan.  As a cast, they perfectly balanced as each character holds their own in the film. What gives these actors an extra comedic boost is their portrayal of the teenage characters. Jack Black as a young teenager girl who is discovering the male anatomy for the first time had to be my favorite character in the film. His character delivers quite a few laughs as his inner teenager goes on her journey as a middle-aged man.
The video game premise takes the film to some unbelievable places but isn't that expected in a make-believe video game? As the group tries to solve the curse of Jumanji and find their way home, we are given a few video game montages mixed with some decent action sequences. Overall, the movie is a fun ride with a refreshing new concept on the board game we all grew up on. While Jumanji: Welcome to the Jungle is not a perfect masterpiece, it still a fun new take on the classic film. I would recommend you PAY to see this film in theaters.
Jumanji: Welcome to the Jungle hits theaters on December 25, 2017. Click here purchase your tickets at Fandango, so you don't get sold out. Have you seen Jumanji: Welcome to the Jungle? Share your thoughts on the film in the comment section below.
Watch my YouTube Review of Jumanji: Welcome to the Jungle: