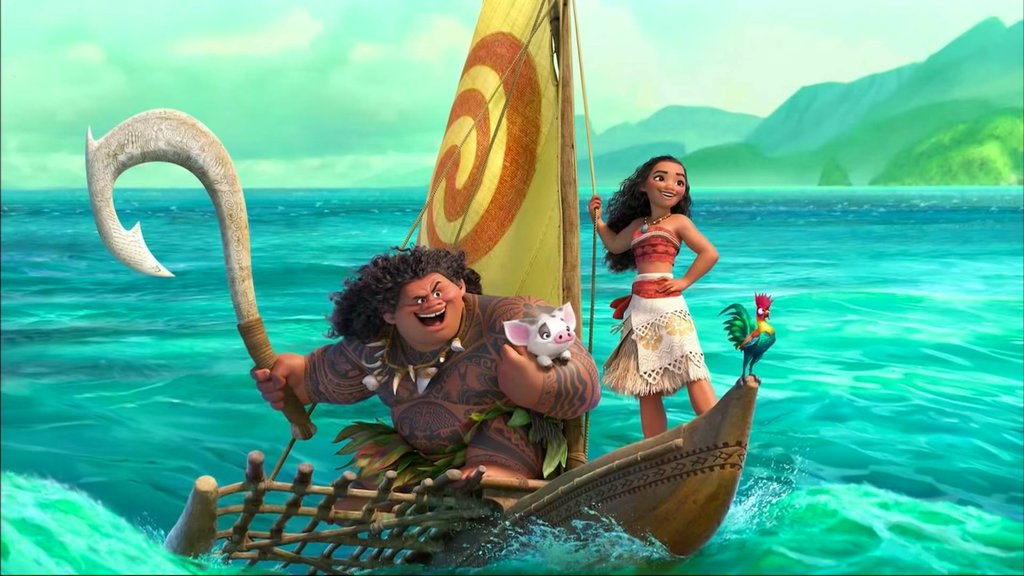 Disney is sticking to the expansion of cultural diversity in their films by introducing their first Polynesian Princess in Moana. Moana introduces us to newcomer Auli'i Cravalho, a 14-year-old girl who was discovered on the last day of casting auditions for this film. Moana is the daughter of Chief Tui (Temuera Morrison) and his wife Sina (Nicole Scherzinger ). They are preparing her to take over as chief in the future but Moana still longs to travel the sea. There is only one problem, she isn't allowed to explore the sea but instead stick to her duties as the future chief. Their village is beginning to decay due to a curse that began over a 1,000 years prior. Her Gramma Tala (Rachel House) tells Moana how she can save her village and Moana begins one of the toughest journies of her life.
Moana is in search of the demi-God Maui (Dwayne Johnson) who she needs to help break the curse. I really enjoyed Dwayne Johnson's performance in this film. Not only did he showcase some vocal skills for us in a few songs but his character was funny as well. Maui and Moana bump heads at first since Maui chooses to work alone and has never encountered so much passion and strength in such a young girl. During the course of the film, you see the two have much to learn from one another as they embark on this journey together.
I have to take a moment to talk about the music of this film. Many of you may not know that while Lin-Manuel Miranda was starring in his hit musical Hamilton, he was also taking breaks between performances to help create the music for Moana. One of my favorite songs from the film is "How Far I'll Go" which is sung by Auli'i Cravalho  in the film, but is also performed by Alessia Cara on the soundtrack. This song is sure to be a hit and I am positive the children and parents will absolutely love it!
Overall, I really enjoyed this film and the children in the theater did as well. I am not sure if it will come close to Frozen but I know that it will definitely give it a run for its money. I am very proud of how far Disney has come with the diversity of their films and I can't wait to see what else they have in store for us.
Get your Moana tickets in advanced and don't get sold out. Moana in theaters everywhere 11/23.