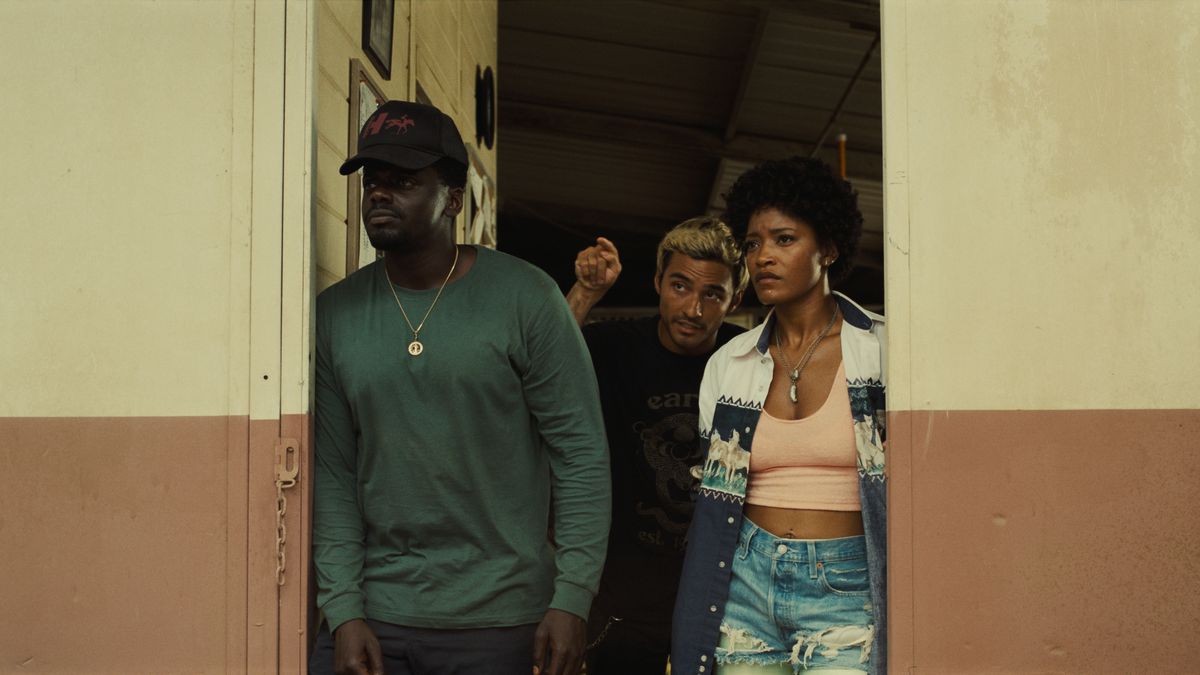 One of the few filmmakers of our time that can deliver an original box-office juggernaut on name alone, Jordan Peele returns to the big screen after the success of Get Out and Us propelled his name to stratospheric levels. With a penchant for delivering innovative horror thrillers imbued with socially-driven subtext, Peele has quickly cemented himself as a force in the genre. Back in the director's chair with his latest outing Nope, Peele expands beyond the horror genre to take on his largest challenge yet.
After the sudden death of their father, siblings O.J. (Daniel Kaluuya) and Emerald Haywood (Keke Palmer) grapple with how to continue running the family business. As O.J. slowly starts to sell off their horses to Jupe, a nearby carnival-running entrepreneur (Steven Yeun) with a dark past, the Haywoods discover the presence of a predatory UFO. Desperate to boost their financial situation, the siblings embark on a mission to capture footage of the saucer with dreams of wealth and fame. 
As Peele's most thematically ambitious work, Nope reveals itself to be a stunning exploration of humanity's relationship to the nature of spectacle. Throughout the first half of the film, Peele intertwines the central UFO-hunting narrative of the film with a crucial moment in Jupe's past: the attack of a distressed chimp that wreaks havoc on the set of a sitcom Jupe starred in as a child actor. Initially presented without context, Peele lets the viewer slowly discover how it relates to the primary narrative as the film unravels. Juxtaposing the two incidents, he draws parallels not only between the chimp and the unidentified spacecraft, but the varying reactions of those around them before, during, and after their attacks. Here, Peele presents the film's central thesis in a layered, cryptic manner, rewarding patience in a form more akin to classic blockbusters than their current contemporaries.
However, the juxtaposition of the two narrative threads is not executed without flaws. Peele's narrative juggling act results in an uneven screenplay that peaks with moments of brilliance worthy of being touted alongside his previous written work—alongside jarring structural discrepancies and a level of conceptual innovation that pales in comparison to Get Out and even Us. While Kaluuya and Palmer both deliver solid performances that bring their familial relationship to life, Peele's screenplay leaves the two leads without meaningful arcs. Pivoting towards a crowd-pleasing climax in the final third, Peele does so in a manner that prioritizes spectacle over character development. Perhaps this was an intentional choice that aligns with the film's thesis, functioning as a metacommentary on the state of modern blockbusters. Yet, one would hope that Peele could have balanced both to result in a film that was wholeheartedly compelling on both a technical and emotional level. 
Peele's direction, on the other hand, shines brighter here than ever before. Armed with a $68 million budget, IMAX cameras, and lessons learned from his previous two directorial outings, his direction in Nope surpasses his efforts in both Get Out and Us to impressive results. Under Peele's steady directorial hand, he plays with traditional expectations to extract tension from even the most minute moments. Here, he immerses the audience with a mixture of horrifying sound design and gripping tracking shots that let the tension build to the maximum while employing a masterful use of imagery and symbolism. Shots of a bloodied chimp, a tense fist bump, a gaping black hole of mystery, and more all add to a chilling atmosphere brought forth by Peele's talents. Melding his intimate, horror-driven roots with a need to deliver a large-scale Spielbergian spectacle, Peele expertly blends both worlds through his unique lens to deliver a thrilling experience.
A step up in scale for the visionary behind Get Out and Us, in Nope, Jordan Peele produces his most impressively directed work yet. While an uneven screenplay rife with structural issues holds it back from reaching its full potential, Nope still stands tall as an intelligent summer blockbuster that will remain embedded in one's mind long after the credits roll.