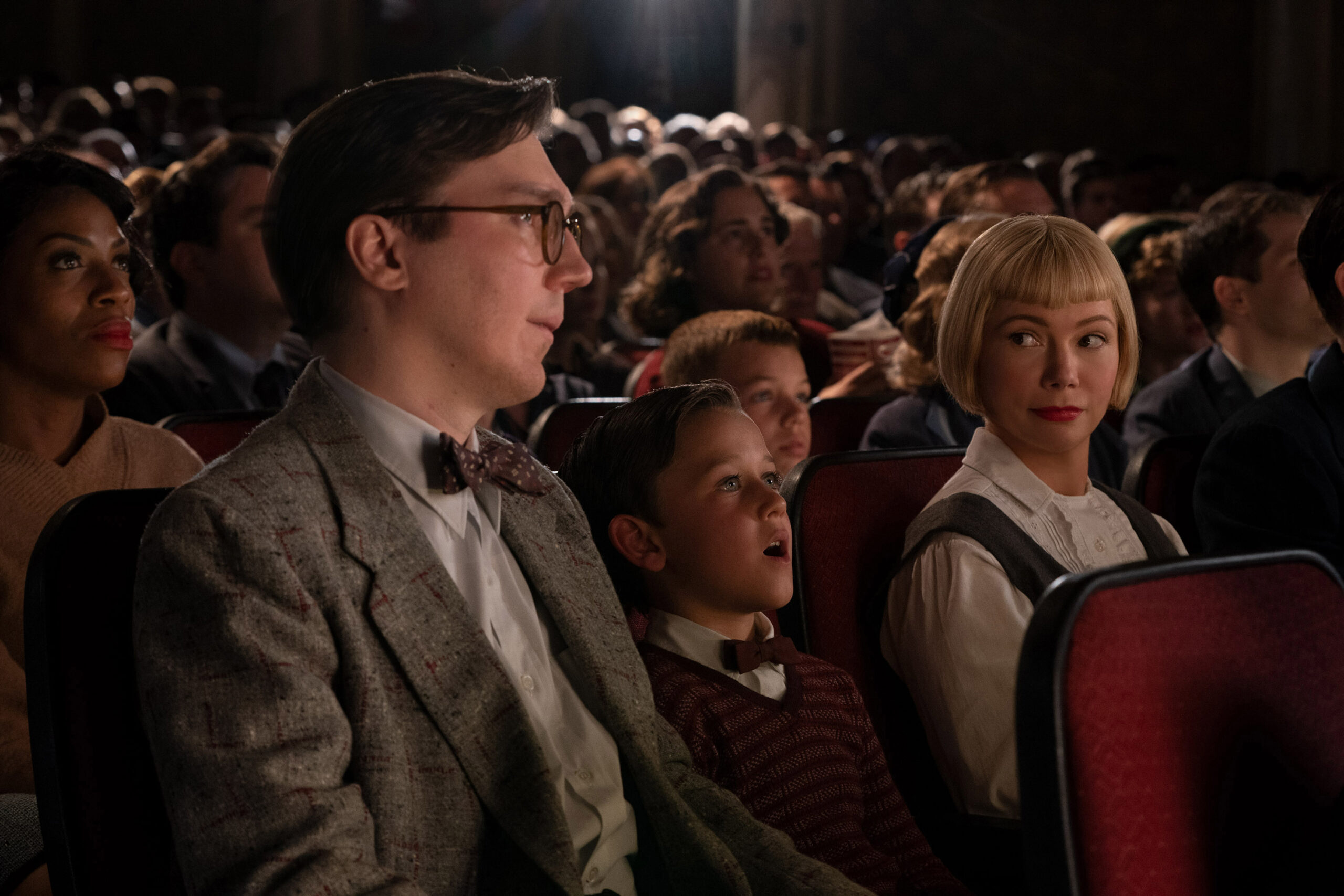 In many ways, it feels like The Fabelmans is the culmination of Steven Spielberg's career. It's the film that he waited his whole career to make, and if it was a career that ended tomorrow, it would be a fitting way to go out. It's a semi-autobiographical story loosely based on the director's life. The title is incredibly fitting in the way that it explains that this story is a kind of fable, but also that the man behind it is known for his prowess at crafting fictitious tales. Through his stand-in, Sammy Fabelman (played by Mateo Zoryan and Gabriel LaBelle at different ages), we observe the celebrated director's early years, how he came to fall in love with movies, and his journey as an aspiring filmmaker. 
It all starts with a first movie theatre experience. For little Sammy Fabelman, it was Cecil B. DeMille's The Greatest Show on Earth. Arguably not the best introduction one could have to cinema, but he nevertheless is transfixed. The bright light of the projector turns dust particles into shimmering stars as pictures move on a big screen. It leaves him in wide-eyed wonder, mouth agape. "Movies are dreams that you never forget," his mother Mitzi (Michelle Williams) says. It's at this moment that the phrase, "Lights, camera, action!" becomes his life. 
At the center of this coming-of-age drama is an imperfect, dysfunctional family. Love, happiness, laughter, sadness, grief, and anger, we see this family go through it all. The Fabelmans are the only Jewish family on their New Jersey block. Sammy's father Burt (Paul Dano) is a computer engineer and his mother is a skilled pianist. His sisters, Reggie (Birdie Borria and Julia Butters) and Natalie (Alina Brace and Keeley Karsten), serve as Sammy's first leading ladies. His mother is supportive of his new passion, being the first one to hand him a camera. Recreating a scene from The Greatest Show on Earth with a toy train and car, filmed by cinematographer Janusz Kaminski like a real action sequence, he can't contain his excitement when he gets his first movie developed. It's the start of his imagination running wild, where throughout the years, he will play with a variety of genres like horror, western, and war, using practicality that reveals his genius.
When his family is uprooted across the country to Arizona for his father's work, child Sammy cuts the scene to move on to teenage Sammy. His love of moviemaking is of bigger importance now as the end of his high school years creeps up on him. He knows the ins and outs of it all and he's critical of his work, thinking of ways to always make it bigger and better. While his mother is still as supportive as ever, his father is the opposite. Burt sees his son's moviemaking as a hobby of no value. He wants his son to make something "real" like he does with engineering. Parents want what's best for us and it's common to see parents in movies react to the uncertainty of choices their children make. The pair clash about what is important and what success is, without noticing that they carry the same passionate drive. There's also a dichotomy here that could have been dug deeper into. Despite, not accepting what his son is the best at, Burt requests Sammy make a movie of their camping trip to cheer up Mitzi. The power of those moving pictures is undeniably known by everyone, even Burt. Sammy sees life differently than most and can capture its beauty. He can capture the imagination with his work, and perceive and represent things in his own way, but he also learns that the camera often sees life at its most truthful – and that can hurt. 
LaBelle delivers a revelatory performance as Sammy. It's especially impressive when you consider how heavy a weight it would be to play one of the greatest filmmakers of all time, but he is brimming with passion. It feels like you're truly watching the evolution of a great director. LaBelle is skillful with expression. Kaminski's camera is often tightly on him and because of that, we are able to see how the actor's eyes scan everyday life like a movie scene. And it's a treat to watch him confidently command a set at such a young age and convey his vision affectingly and with gravitas. There's a rare moment where we see him for a length of time without a camera in his hand, just being a regular kid navigating high school. While those scenes often seem essential to coming-of-age stories, here it causes the film to lose its momentum. Luckily, he doesn't keep the camera down for long. LaBelle is surrounded by many great performers, and it's Williams who makes an impact especially. She's the joyful and bubbly one in contrast to Dano's serious realist. At one point, she succumbs to a deep depression that shows what happens when one can't have what one desires, and she doesn't want that for her son. Her emotional moments are hard-hitting and her eyes are equally as expressive as LaBelle's, going from both happiness to pain in a matter of seconds. 
Many are tired of movies about movies, and it's easy to understand why. They're Oscar bait. More often than not, they get recognized by the Academy above many other films that should be recognized and never are (like horror films, for example). However, it's hard to deny their magic, especially if John Williams is composing. There's an undeniable magic in capturing the shared experience of seeing our first movie, which in turn, captures why we love movies so much. Movies themselves are magical. They have the power to move us, terrify us, and shape us. They did all these things and more for Sammy Fabelman and Spielberg. Through this semi-autobiographical tale, we come to understand the hard truths that Spielberg, and many other artists, may have had to learn and the sacrifices they may have had to make to become who they are. 
In one early scene, little Sammy Fabelman projects his first movie on his hands, gazing in amazement as he holds the world. This is nothing short of foreshadowing how Spielberg would one day hold the world in wide-eyed wonder at his own creations.