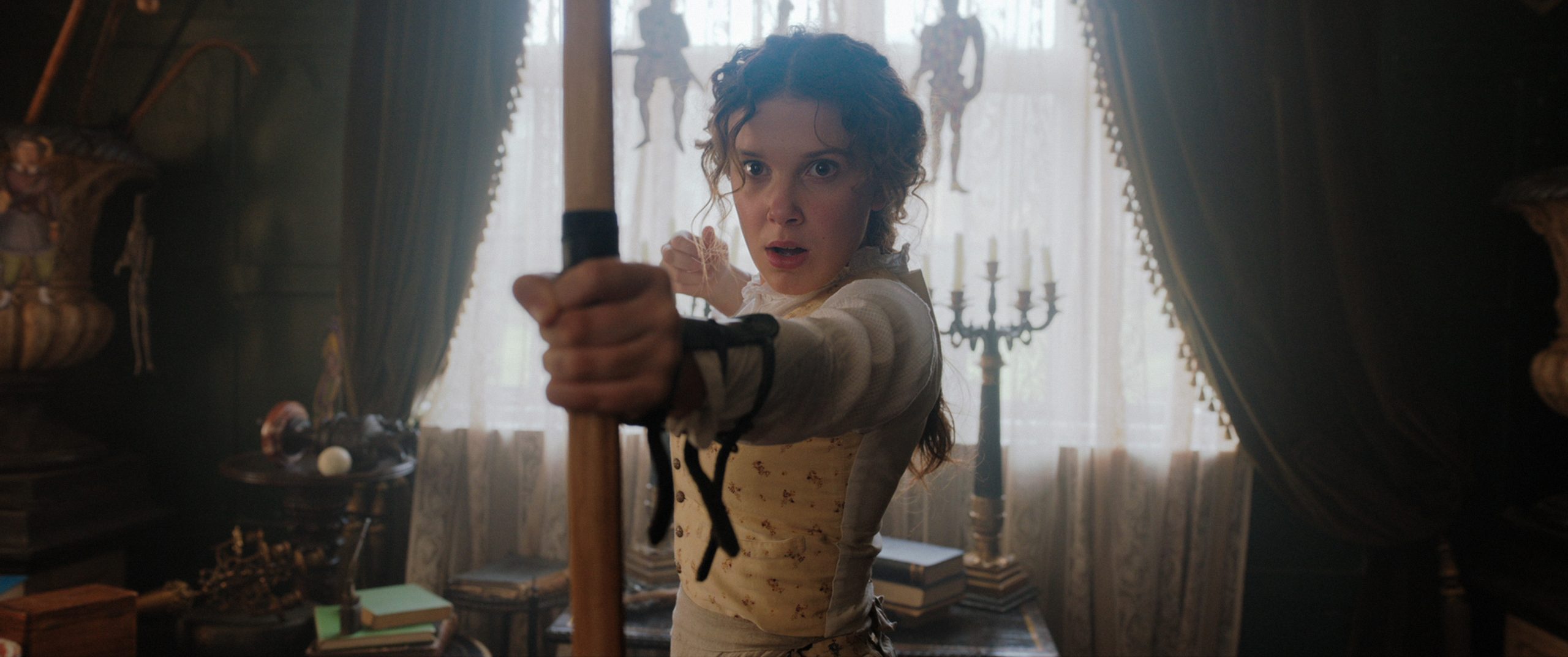 Enola Holmes, the anticipated film based on The Enola Holmes Mysteries book series from author Nancy Springer, centers the youngest Holmes sibling, Enola (Millie Bobby Brown, Stranger Things), on a quest to find their mother, Eudoria (Helena Bohnam Carter, The Crown). On Enola's 16th birthday, Eudoria disappears, forcing Enola to reunite with her big brothers Mycroft (Sam Claflin, Peaky Blinders) and Sherlock (Henry Cavill, The Witcher).
Much different from her brothers, Eudoria raises Enola as a single-mother after her husband dies. Instead of traditional schooling, Eudoria teaches Enola vital life skills like combat training, in addition to academics. Eudoria allows Enola the freedom to choose her path, make her own decisions, and to focus on finding out who she wants to be in this world. For Enola, when her best friend and closest confidant goes missing, she has no choice but to reach out to her brothers, especially when one is England's most famous detective. When Mycroft and Sherlock arrive, they do not recognize Enola, knowing nothing about the young woman she has grown to be. It is evident that Mycroft, Enola's appointed ward, exists to be the judge in her and Eudoria's lives. From judging the family house, how Eudoria manages the finances, and even how she raises Enola. Sherlock, on the other hand, is not remotely concerned about Enola, is dismissive of family drama, and is only there to find their mother sooner than later, as he wishes to move on with his life.
Enola is curious and the perfect blend of her brothers and her mother. She is headstrong but with a heart of gold and a moral compass, like Eudoria. She has an eye for detail and detective wits like Sherlock but can also shut people out and dismiss those who are of no use to her like Mycroft. When Mycroft threatens to send Enola to a finishing school to prepare her for womanhood and marriage, Enola understandably rebels, escapes, and thus her adventure begins. As fate would have it, Enola encounters another unlikely young runaway on her journey, Lord Tewksbury (Louis Partridge, Paddington 2). Lord Tewksbury has a brush with death that causes him to escape his royal duties and follow his life's passions. Enola's search for mother takes her down a path she never knew was coming, leading her back to Lord Tewksbury for a surprising mystery within a mystery, and unraveling a feminist twist that I did not see coming!
The first half of Enola Holmes starts slow, giving additional context into how she grew up, her eccentric mother, and her complicated relationship with her brothers. Because there is so much love between Eudoria and Enola, I was initially awe-struck that she would even choose to leave her daughter, particularly when there is so much more she needed to learn from her. By the second half, Enola Holmes finds its rhythm, and I could not stop watching! When the adventure kicks up, Brown shines, giving the audience action, heart, and comedy. Brown is captivating as the youngest Holmes, who is simply on a path to figure herself out and the mark she wants to make on this world. Enola is so sharp and resourceful that oftentimes, I forgot that she was a 16-year-old with no real-world experience outside of her home. To see Enola's brilliance flourish in precarious situations was one of the film's highlights, but to see her give Sherlock a run for his money as a detective, while also using his words against him, even better. 
Enola Holmes toggles between the past and present, fusing much of Enola's current fight scenes with flashbacks of her rigorous training with Eudoria. Enola consistently breaks the fourth wall, which I normally hate, but here it was quite charming and spoke to Enola's unorthodox personality. The performances are solid, especially Claflin's, who you will assuredly despise as Mycroft from the moment he steps on-screen. Cavill is quiet, peculiar, and clever as Sherlock. And Bonham Carter is as confident as ever as Eudoria. 
While the film is mostly rooted in familial drama and not just the Holmes family but the Tewksbury's as well, it is also centered on why people make the choices they do. While no choice is easy, Enola is faced with difficulties back to back but ultimately finds her way, despite the lack of presence and guidance from her beloved mother. As every interconnected mystery unfolds, we realize every character and family are woven into the overarching plot around providing equality for all. Enola Holmes is a ride that pays off, giving me a feminist storyline with purpose, a young heroine who saves the day and the men who doubt her, and even glimpses of a budding romance rooted in mutual respect and shared goals. So, if you like daring mysteries, watch Enola Holmes and remember good things come to those who are patient!
Be sure to stream Enola Holmes on Netflix on September 23rd!