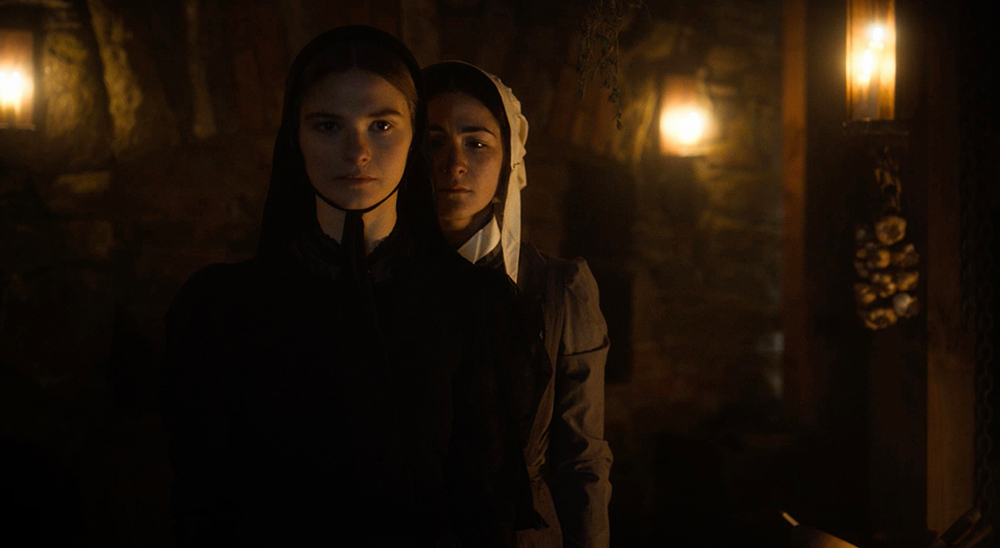 The Last Thing Mary Saw is quick to envelop you in its atmosphere. In its very first seconds, first-time feature writer and director Edoardo Vitaletti swiftly establishes a dark and suffocating environment. Through the film's cinematography, Southhold, New York, in 1843, seems to live in constant fog and candlelight but is hypnotic thanks to the film's score. At first, resembling wind chimes in the morning breeze, it quickly turns ominous, like distant thunder ­– a sign that a storm is on its way. This feeling is emphasized by the homoerotic imagery in one of its first frames: A young woman's fingers stroke an illustration of two naked women in a river. "It's not our responsibility to give the devil the chance to repent," a lawman says. Reminiscent of the recent Netflix release, Fear Street 1666, homosexuality in Vitaletti's film is also viewed as the devil's work. This is our introduction to the titular Mary, a woman accused of devilish deeds in the aftermath of her grandmother's death. Blindfolded, with blood dripping from her eyes down her cheek, the last thing she saw was literal – and the image of her in this way is haunting. Vitaletti truly excels at hooking his audience in from the very first frame, and that never subsides. Although wrought with a troublesome trope, the director has crafted an impressive feature debut, one where horror seeps into its coming-of-age narrative about how fear clouds the mind and a matriarch's power over a family.
The Last Thing Mary Saw is a film of supernatural malevolence. Divine intervention has a hand around Mary (Stefanie Scott) and her family's throat, as her father discusses a book he has in his possession. The chapters of this novel divide the film's narrative and tell the story of the family's fate. A book that somehow tells the future is intriguing, but this work isn't given the focus it should as we don't come to find out where it came from or who wrote it. Regardless, ageless forces are at play, and the family is consumed and clouded by the belief they are acting on God's behalf when in reality, they are acting in fear. This stems from the "inordinate affection" between Mary and the housemaid, Eleanor (Isabelle Fuhrman). Longing for each other's touch in a world that sees their relationship as an abomination, Mary's family believes that both separation and prayer will heal their temptations. Much of the family's fear of the devil's influence is due to the matriarch's (Judith Roberts) control. She's also the reason for the film's supernatural elements. Her presence has much religious significance, but also shows the fine line between what is good and what is evil. What should be feared by this family is what's followed, but what is harmless threatens them. 
Vitaletti's feature debut is at times unpleasant, but always engrossing. You never want to look away, and that has as much to do with the exquisite performances as its ghostly atmosphere. It has a fixating and foreboding energy in its slow pace, and having the end of Mary's story be the beginning helps build intrigue and suspense. The events of the film are shocking and it's thanks in big part to Roberts' performance. She's devilish and intimidating as the family's matriarch, and her humming haunts the ear even after the credits roll. Scott as Mary is introduced in a big way, having to recite the Lord's prayer as guards have their weapons drawn, waiting for the devil himself to jump out of her skin. Her performance and strength in these opening scenes make you want to stick with her to find out what led to her circumstance. Scott and Fuhrman are two fine young actresses who convey the affecting emotions of two girls in love. Their separation is torturous, and much of their emotions are conveyed by looks and gestures, as any other type of interaction means another kind of torture. They easily slip into the skin of two characters coming of age in a suffocatingly restrictive time. Mary and Eleanor seek freedom, and their quest to get it leads to the fate that Mary's father's book predicted. One must also mention Rory Culkin in his brief role as an intruder who is the cause of the film's more unpleasant scenes. He's been considered monstrous since birth due to being born with a large mark covering one side of his face, and he takes this view of himself by others and becomes the slimy and monstrous character they labeled him to be. While he's an exciting young talent, you can imagine a film where his character is unnecessary.
Despite the very tired use of a trope that targets LGBTQ+ characters, Vitaletti presents a well-crafted tale of a sick and twisted family, all made the better thanks to Keegan DeWitt's score and David Kruta's cinematography. Vitaletti also acknowledges how resilient the LGBTQ+ community is, and I commend him for it. Mary's uncle says, "We seek to eradicate the evil flower by cutting the stems, but the roots are too deep and will grow again." It's a statement of defeat. A statement about how the family knows deep down they cannot rid themselves of what they believe is ungodly. Mary and Eleanor brave the possibility of punishment. "I'm not afraid," Eleanor says. She's tired of a life spent hiding, and even if those of our past were unable to live full lives, the flower's stems continued to grow. The generations that followed are living freely in their name.