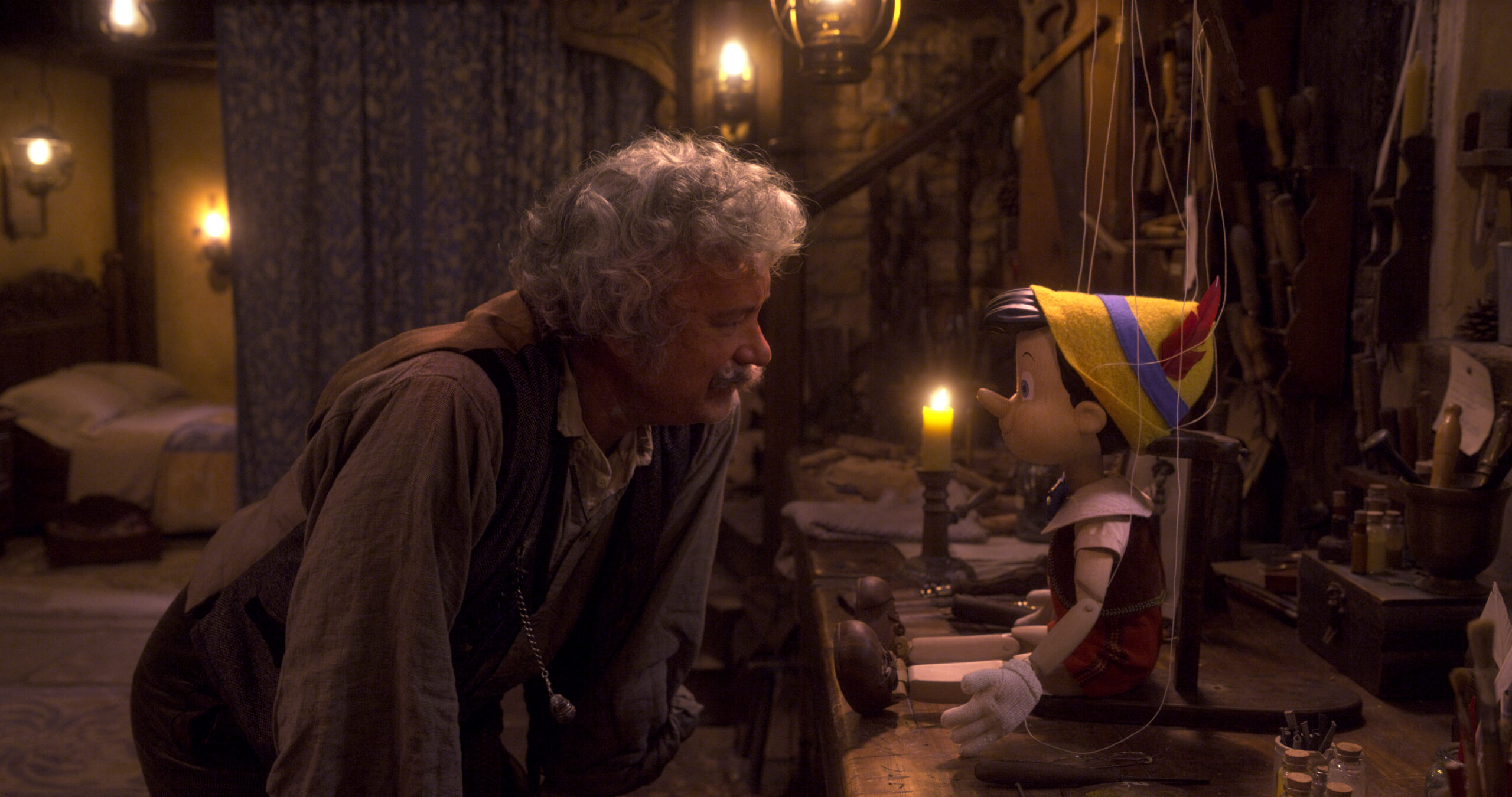 It would be hard to remake an animated classic and match the same level of praise and adoration as its predecessor. But it's something that The Mouse House won't stop trying to do with it its own work, taking out movies from the vault and picking at random which to turn into live-action next. More often than not, these remakes are a waste of time. Their latest, Pinocchio, will have most audiences feeling that same way; however, it's evident that an effort was made to improve upon the little wooden boy's first Disney outing.
It's the same story we know: A wooden puppet named Pinocchio (Benjamin Evan Ainsworth) comes alive, wishing to be a real boy. With his conscious Jiminy Cricket (Joseph Gordon-Levitt) in tow, he must prove to be brave, truthful, and unselfish in order to make that happen. But his journey is a difficult one; he gets locked in a cage by a crazed puppet theatre owner, sent to an island where he narrowly avoids being turned into a donkey, and is swallowed by a massive whale. Oh, and when he lies, his nose grows. 
Robert Zemeckis's Pinocchio has many similarities to the animated film, of course, but it's not beat for beat. We are welcomed to Geppetto (Tom Hanks)'s shop of cuckoo clocks where he lives with his adorable cat Figaro and sparkling fish Cleo. But even in familiar scenes like these, there are differences. It's clear from Zemeckis and Chris Weitz's script that making the film feel new was important, and some added elements here bring more emotional depth to the piece. Pinocchio is a story about many things, including overcoming grief. Unlike the original, this live-action take explains that Pinocchio was created by Geppetto to help him cope with the loss of his son, and his wish for Pinocchio to be a real boy is a wish to have his son back. We also learn that there is meaning to all those clocks that line his walls, but now they bear nods to classic Disney stories and characters. In the moment, that touch feels like a creative callback, but it can also be a metaphor for the studio's relationship with its own properties. As this tweet excellently puts it: "Every classic Disney movie is now a mechanical cuckoo clock designed to repeat itself over and over until it drives you insane."
The cast is one of the film's greatest strengths, bringing new life to familiar characters. Cliff Edwards is a hard act to follow but Gordon-Levitt surprises as the voice of Jiminy Cricket. He captures Edwards' charm and energy but adds a twang to differentiate himself. Hanks, a frequent Zemeckis collaborator, carries Geppetto's eccentricity with ease and vigor (although, it's unclear what kind of accent he's trying to do). Ainsworth's voicework matches Pinocchio perfectly, and almost feels like we're hearing Dick Jones again. We also spend more time with Pinocchio than in the animated version, this allows his consciousness to slowly develop in noticeable ways. His desire to belong is also emphasized with a constant rejection as both puppet and boy, but through this crisis of identity comes the friendship he develops with a welcomed new character Fabiana (Kyanne Lamaya), a puppeteer and aspiring ballerina. 
Luckily, the film still sticks to its darker elements. The production design is a highlight, especially since it makes it more obvious that the film is set in Italy. This is lacking in the animated work, with the remake also incorporating moments where characters speak in Italian. Going back to production design, the transformation of Pleasure Island is impressive. It's wonderous but a lot more terrifying with giant clown heads grinning from ear to ear, hinting at sinister intentions. 
For as many positive things you could say about Pinocchio's re-entry into the Disney money machine, there are an equal amount of negatives. Some scenes from the original are cut to make room for new ones, but almost everything brings a new layer to the story and Pinocchio's character. While others, like Luke Evans' song and dance, feel unnecessary. Songs are still present, but the new material feels out of place. With works already so cemented, it's hard to make new songs fit, and even an artist as gifted as Cynthia Erivo is unable to capture the original magic that Edwards brought to "When You Wish Upon a Star". Speaking of Erivo, her entrance as the Blue Fairy is the first instance of very wonky CGI, as her unfixed movement gives the appearance that she doesn't fit into the scene. Hanks's interaction with a barrage of what was presumably tennis balls presents an unnatural quality – the often awkward dialogue and humor don't help. The CGI isn't the worst, but an example of such heavy use, especially to bring an animated film to life, questions what the purpose of it all really is. 
Whether it ultimately has the same magic as the original may depend on the viewer's attachment to it, but the open-ended ending definitely doesn't have the same joyous effect. There was a more hard-hitting message in the original film, too. Thanks to the fairy's wisdom, older audiences have learned the consequences of a lie. Here, however, Pinocchio lies to reach a goal. This aspect of his character is the most known, and changing the scene of his first lie so dramatically results in the same question most of these live actions get: Why does this exist?