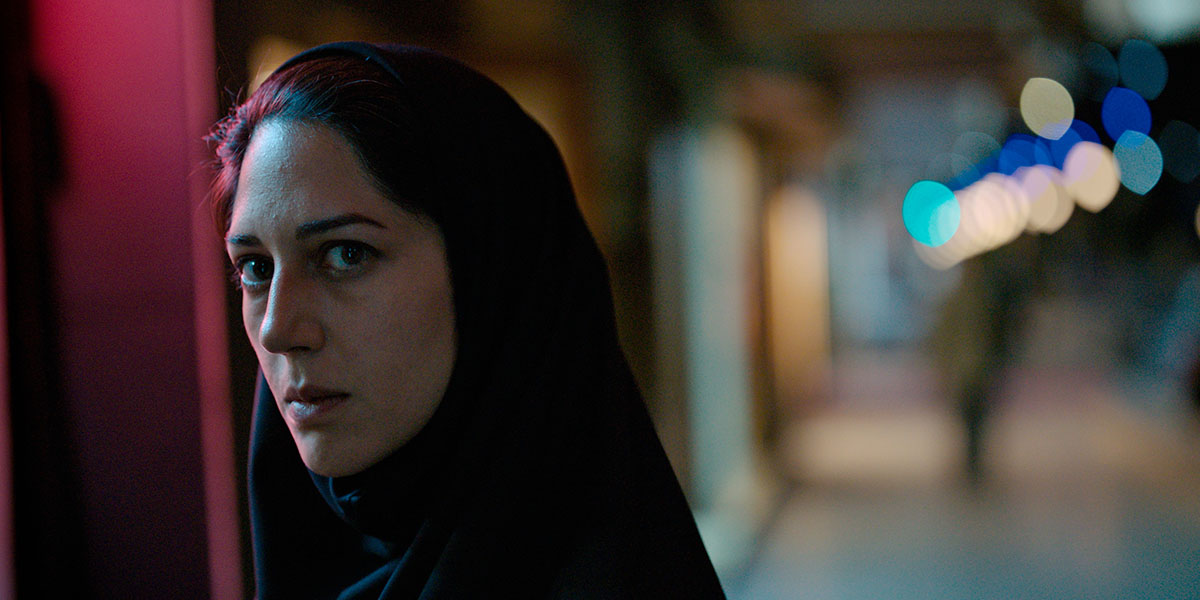 A woman bruised tucks her daughter into bed before applying makeup and high heels. This, along with her loose hijab, garners looks from every man she passes on the street. She's a sex worker, and when she gets on the back of a man's motorcycle, a camera close-up reveals inner torment across her face. They arrive at the man's place, where she immediately feels uncomfortable. She tries to get away, but in a graphic scene, the man strangles her to death.
Ali Abbasi's Holy Spider isn't a film for the faint of heart. It's, admittedly, not an easy watch, with many haunting moments that linger post-credits, but it could be the next obsession for true-crime buffs. After surviving war without a scratch and feeling disappointment as a soldier, Saeed (Mehdi Bajestani) starts his own war. The true story of Iran's "Spider Killer" saw a man wage a "jihad against vice," as Abbasi and Afshin Kamran Bahrami's script describes. During this war that spanned between 2000 and 2001, 16 sex workers were brutally murdered – strangled by their own hijabs. It's a blunt commentary on a patriarchal society's discarding of women and the destructive results of unsympathetic religious beliefs. These sex workers didn't fit society's idea of purity; the killer was seen as doing the cops a favor by cleaning up the streets. Instead of helping women, they are disposed of. 
Mashhad, Iran, is a place of religious pilgrimage, but Rahimi (Zar Amir-Ebrahimi) hasn't arrived from Tehran to participate. Traveling alone and unmarried, she's met with resistance from hotel staff to let her stay, but once she flashes her journalism credentials, that changes their tune. The audience is automatically drawn to Rahimi who refuses to cover her hair when asked to and who is unafraid to stand up to the men around her. This rebelliousness feels akin to that of the sex workers, and we learn that she is also a victim of patriarchial power – making this case that she's come to investigate feel personal. 
By the time she arrives, Saeed is already on his ninth victim. People are scared and on edge. The cops haven't found a clue in 6 months, and Rahimi isn't afraid to call that out as incompetence. She's determined to solve the case and catch him, even if that means doing it alone. Meanwhile, the audience is privy to the "Spider Killer" as a hard-working family man. He's a loving husband and a doting father, and the scenes where he's playing with his daughter and taking his son on a motorcycle ride bring to mind BBC's crime drama series, The Fall. It follows a female detective who is tasked with assessing the progress of a murder investigation. Once it becomes clear that the case involves a serial killer (who is also killing women), the detective works tirelessly to solve it – and to dangerous lengths. This detective and Rahimi are similar in the fact that their life becomes consumed by this abhorrent act of violence. No matter how this case affects them, they refuse to let the injustice go.
Rahimi is met with resistance to report on the case and she's getting nowhere with law enforcement. So, she goes undercover. Martin Dirkov's score successfully builds anticipation as a result of this move, which could become dangerous in a ruthless cat and mouse game. Both leads are terrific in their roles, and watching them go head to head is both enthralling and anxiety-inducing. Amir-Ebrahimi is stoic, with a hard exterior built for a reason. She acts calm in moments when anyone else would be panicking. But when her composure cracks in moments of fear, though, like walking alone at night, her emotions transfer to the female audience watching who know that fear all too well. When Saeed starts to crumble under the weight of his actions, Bajestani delivers Joker-like laughter that pierces the ear and fades slowly.
Holy Spider describes its central case as a "bottomless black hole," and the film's direction, script and technical elements all succeed in the audience bearing the weight of that truth – to an almost almost suffocating degree. The violence perpetuated against these women is hard to watch, and the relevance of this is even harder to swallow. In a film where a woman struggles to be heard to save women who struggle to be helped, men believe they are untouchable. But the protests that erupt from this violence – as we have seen with the death of Mahsa Amini – are cracking the foundation of the archaic systems as we know them.