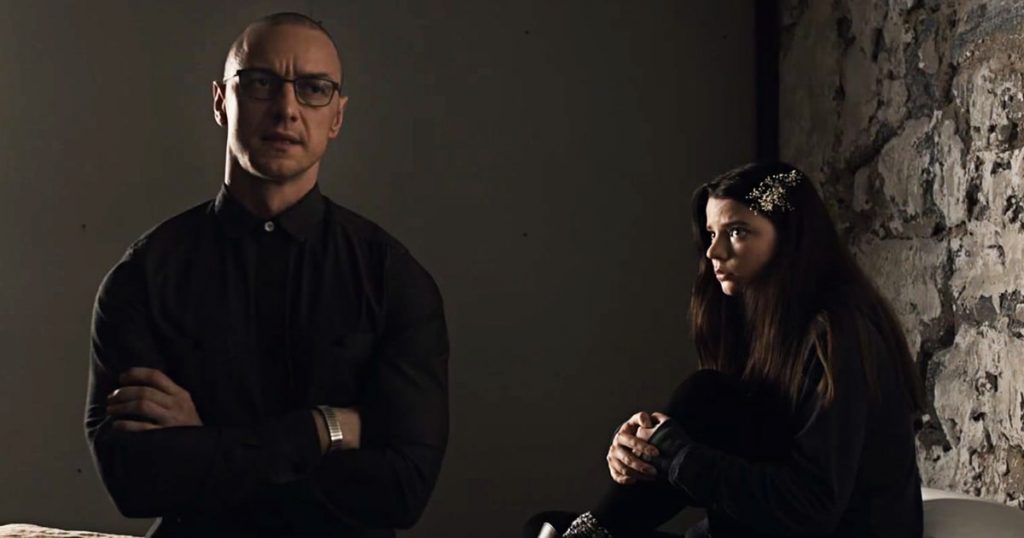 Split revolves around the mind of Kevin Crumb (James McAvoy), a man who has lived with Dissociative Identity Disorder (DID) since childhood and has over twenty-four identities living within his mind. The opening of the film cuts right to the chase when one of his identities, Dennis, abducts three teenagers in what seems to be a mall parking lot. The movie then shifts to how the teenage girls,  Claire (Haley Lu Richardson), Marcia (Jessica Sula), and Casey (Anya Taylor-Joy), fight for survival while trying to learn the motive behind their abduction. The teenagers quickly realize that their abductor has multiples identities and quickly tries to figure out how to use their discovery to their advantage.
One of the main standouts amongst the teenagers would have to be the quiet yet intelligent Casey. Casey seems to be unbothered by the predicament she is now in which the other two young women but you can tell she is calculating the right moment to escape. You learn more about why she behaves in that manner from a series of flashbacks from her childhood. The other two teenagers do not have much depth to them outside of your normal privileged and sometimes annoying teenager. If we are going to talk about performances then we must talk about the man of the hour, James McAvoy. McAvoy is nothing short of brilliant in his performance the conflicted young man living with over twenty-four identities. It is no small feat when you bring to life twenty-four different characters within the same movie. McAvoy accomplishes the impossible while providing depth and personality to each character from the mannerisms to the specific dialect of each different identity. His performance steals the show and provides some laughs, but also fear from beginning to end.
During the film, M. Night Shyamalan introduces another viewpoint from Dr. Karen Fletcher (Betty Buckley), a therapist,  who has treated Kevin but mainly his personality Barry for quite some time. I appreciate the therapist's  viewpoint in the film because it humanizes our abductor and provides insight as to why these multiple identities were initially created. You can tell Dr. Fletcher is deeply invested in the treatment of Kevin and even uses her research to provide new insights to those dealing with DID.
I really enjoyed this film and for many, this will come as a surprise since M. Night Shyamalan has been somewhat inconsistent in his films over the past decade. What I enjoy about M. Night Shyamalan is that his films are not only to entertain the audience but they implore you to find the deeper meaning or issue he  is trying to convey. You think you are watching what some would call a thriller/horror film only to find out by the end of the movie you are debating whether or not our viewpoint of those suffering from mental illness is accurate. Are we the ones who are inferior and those whom we label in society as mentally disabled really the superior group? I recommend that you PAY to see this film in theaters and find out for yourselves.
Split hits theaters this Friday, January 20th. Click here to purchase your tickets now at Fandango so you don't get sold out. Have you seen Split? Share your thoughts on the film below!