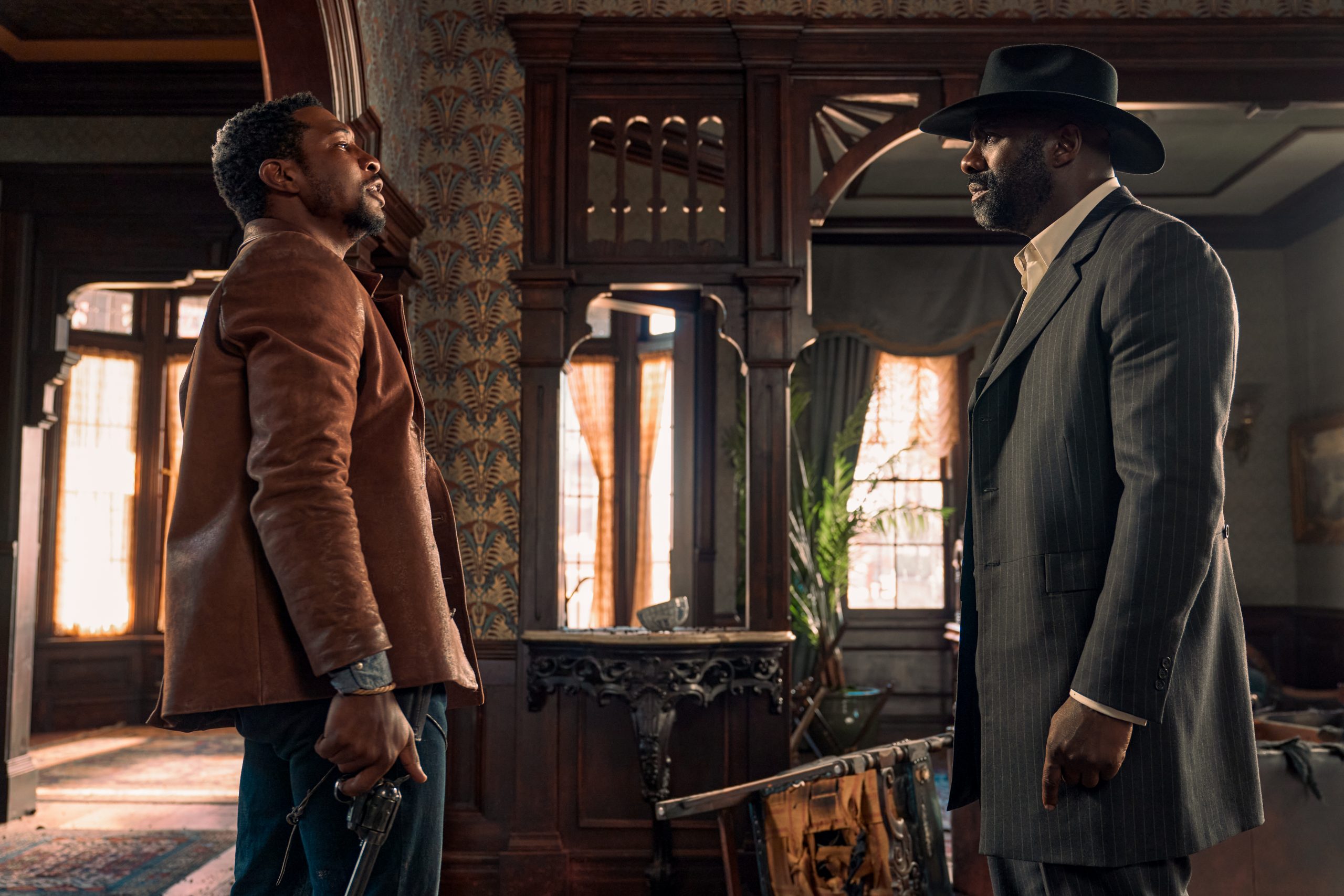 What was once a popular escape for the American moviegoer has been galloping across the silver screen less and less. But when a Western does show up, it's like a prospector finding gold. The appeal of Westerns is that we know what we're going to get, and that's a comfort in a way. They have predictable elements like gunfights, robberies, saloon brawls, standoffs, and familiar characters like the cattle rustlers, lawmen, and outlaws. But the genre has the freedom of being able to play with all these elements freely and in different ways. They are similar but different at the same time. Produced by Jay-Z, The Harder They Fall is Jeymes Samuel's first feature film. He puts his fresh spin on the genre, while also widening the scope of these kinds of stories by presenting a more accurate, diverse image of the Old West. As the film's opening explains, the story depicted here may be fictional, but the characters existed – and they're gunning for revenge.
The neigh of a horse signals an unwanted visitor comes to settle a quarrel. And just as quickly as the film starts, there are gunshots. The lawlessness and brutality of the Wild West aren't shied away from as gang leader Rufus Buck (Idris Elba) kills a mother, father, and leaves a child alone but with physical and mental scars. With a flashy, bloody title card in the style of Tarantino, we are introduced to outlaw Nat Love (Jonathan Majors) on his journey for revenge. While Love is on the hunt for Rufus Buck, the latter is leading a town into disorder in the pursuit of an Avalon for Black Americans. But violence met with more violence can never lead to peace. 
Samuel and co-writer Boaz Yakin have written a pretty standard Western story about men robbing men and gangs fighting gangs, leading to the inevitable showdown – with wonderfully choreographed fight scenes – that audiences always look forward to. But in all the gunslinging is a tale of violence, greed, friendship, and love between the members of two gangs that are based on real people. By doing this, Samuel presents an image of the American frontier that the "white" Western gave the false impression it was doing authentically. Among the Nat Love gang is Stagecoach Mary Fields (Zazie Beetz), the first African-American female mail carrier; Jim Beckworth (RJ Cyler), an American fur trader and explorer; Bill Pickett (Edi Gathegi), a cowboy and rodeo show performer; and Cuffee (Danielle Deadwyler), based on Cathay Williams who, under a male pseudonym, enlisted in the United States Army – the first Black woman to do so. Among Rufus Buck's gang, there's the thief Trudy Smith (Regina King) and one of the most feared outlaws of the time, Cherokee Bill (LaKeith Stanfield). Along with Nat Love, the law also wants Rufus Buck gone, and these lawmen are Wiley Escoe (Deon Cole) and Bass Reeves (Delroy Lindo), the first Black Deputy U.S. Marshal west of the Mississippi. 
A reimagining of these characters doesn't allow the audience to learn much about them, especially when there is very minimal backstory or history crafted to explain how these characters met in the first place. It also allows for many liberties – good and bad. For example, one thing rightfully criticized is the casting of Beetz as Mary. While the character's strong-willed nature leads to the best action sequence, the real Mary was a dark-skinned Black woman, so casting Beetz raised eyebrows with many in the Black community calling this portrayal colorist. Along with being light-skinned, Beetz is also thin, not only displaying colorism but fatphobia, as well. As Samuel and Yakin have written Mary as Nat's love interest, whether intentional or not, they are basically saying that a woman who looks like the real Mary could never get a hot cowboy. While the liberties taken with Mary proved to be the film's biggest flaw, the ones taken with Trudy are much more fulfilling. According to an interview with Samuel for GQ, not much is known about the real Gertrude Smith, and in my own research, I could only find one reference that made sense to who the character may have been. As such, Trudy feels like an embodiment of the tough-as-nails women that were rarely represented in Western films. With this role comes King who towers above the rest, sitting regal, unflinchingly on a horse as a train takes a grinding halt inches from her. Wiping a bloody knife on the napkin of a white man, she runs the show. She is also given an emotional backstory that allows for a more layered performance. But Nat Love is an interesting character, too. He can kill you with a sweet smile and he feels different than your usual Western "hero." His history with Buck sends him down a dark path, both of them outlaws who are known for showing no mercy. It's interesting to see a lead that lacks some level of morality, making it hard to establish good guy vs bad guy. In that way, Samuel breaks the Western mold. 
You can go on and on about these characters, and especially this cast. Their humor and comradery make them so entertaining to watch. With a cast this stacked and this talented, it will be surprising if they don't secure a SAG ensemble nomination. Other highlights include Antoinette Messam's costume design that's period-specific but also fabulously stylish. Martin Whist's production design and the film's set decoration are excellent at contrasting the vibrant colors of Buck's town versus the plain whiteness of the white towns. Mihai Malaimare Jr.'s cinematography is also quite striking, especially during the scenes of Buck's gang on horseback. But what's most rousing about the film is its soundtrack and sound design. The echoing of shots as guns blaze in a canyon; the ping of falling shell casings as bullets exist their barrel. Pows and pings of gunshots are a score of their own in Westerns, but the music itself also elevates the intensity of the scenes – like a restless hand on a holster. Along with writing and directing, Samuel also composed the music for the film. Music has always been a key part of the genre, helping to transport the listener to that time and place. While inspired by popular music from the 1800s, filmmakers also put their own stamp on the sound depending on the era in which they were made. The Good, the Bad and the Ugly for example introduced the ocarina, a flute instrument whose sound is linked to the genre's standoffs that would become a staple for Westerns. They would also hire popular artists to create a theme song, like Peggy Lee for Johnny Guitar or Nat King Cole for Cat Ballou. For The Harder They Fall, Jamaican reggae singer Koffee recorded the title track written by Samuel. There are several original songs that all capture the film's tone and style, with sequences of saloon performance featuring Beetz, and Majors even gets to try his hand at being a "singing cowboy." Leaving his own signature, Samuel also employs the music of reggae artist Barrington Levy, Afrobeat multi-instrumentalist Fela Kuti, and rapper Lauryn Hill. All icons in their field that, combined with Samuel's deft musical touch, capture a spirit of America that Western music always has, while also serving as a reminder of the influence that Black culture has had on forming that same spirit.
The Harder They Fall isn't perfect, but with a more diverse array of filmmakers than ever before, and more audiences championing their stories, it shows how genres can evolve. Westerns aren't dead – they're in rebirth.