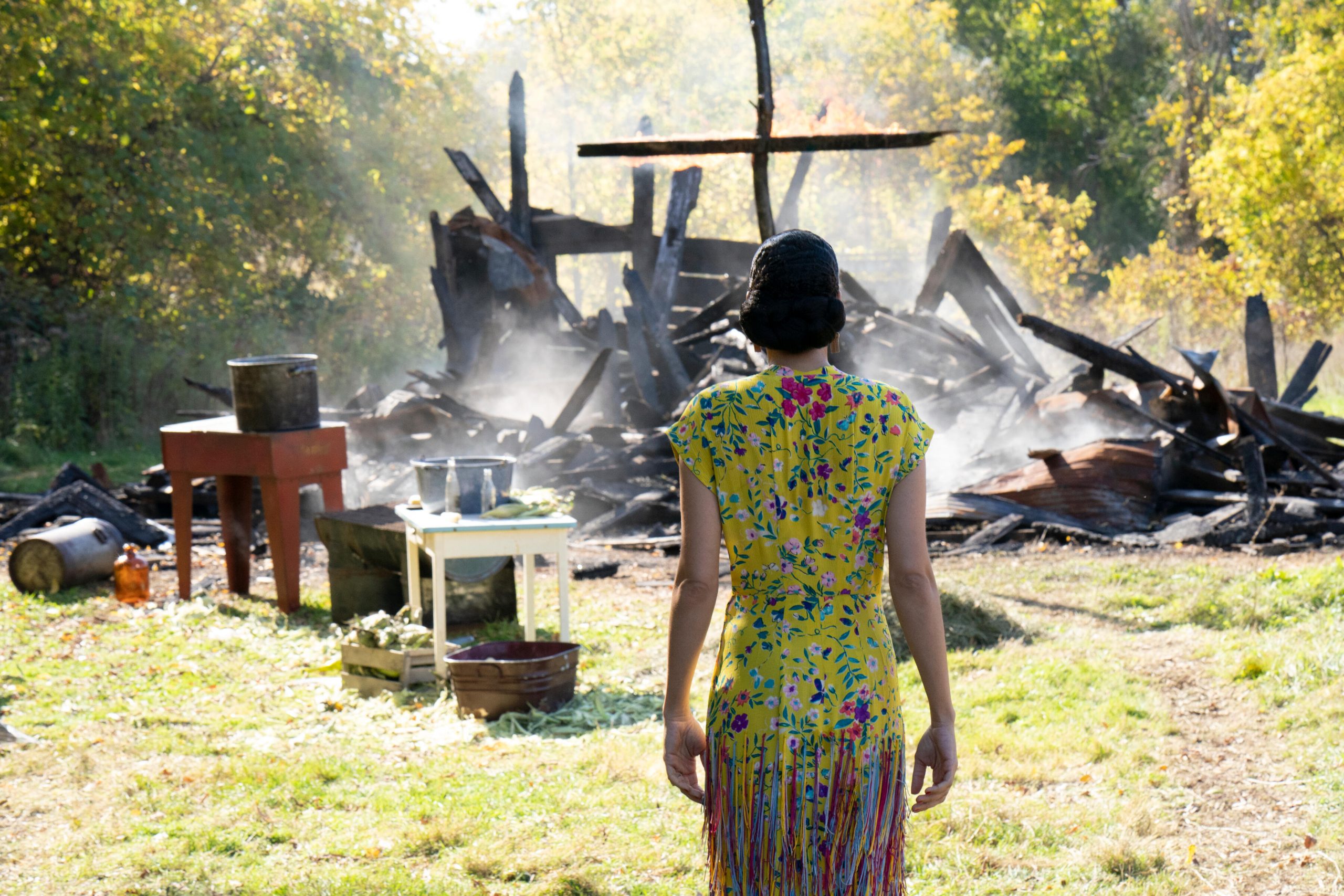 Lee Daniels chooses to open his biopic on Billie Holiday's life provocatively – with an image of grotesque violence and inhumanity. A lynching. A horrifying act of hatred that Holiday lyricized in the song "Strange Fruit." In 1937, the year where a bill to ban the lynching of African Americans was put forward and denied, Jewish American writer, Abel Meeropol, wrote the poem "Bitter Fruit." It would later be a song of protest, one that would tie itself inseparably to Holiday forever as her most well-known work. Based on a chapter of Johann Hari's book, Chasing the Scream: The First and Last Days of the War on Drugs, The United States vs Billie Holiday is at first set to be framed around an interview between Holiday (played here by Andra Day) and Reginal Lord Devine (Leslie Jordan). But the interview gets lost and forgotten in the film's overlong and boring retelling of the jazz legend's life. The interview, like the film, has the intention of being a retrospective on her life and career, but all Billie Holiday and Devine care about is her drug use and sex life. As with many figures who died young, biopics and texts tend to focus on tragedy, ignoring other facets of the subject's life. What Daniels and screenwriter Suzan-Lori Parks deliver is no different. 
The investigation into Holiday's drug use, spawned by her refusal to stop singing "Strange Fruit," is the film's most prominent focus and also its most uninteresting – her vices taking precedence over her artistry. People in high places don't want her singing "Strange Fruit," as her manager warns, but she doesn't care about those people. She only cares about those who pay to hear her sing. And if Lady Day wants to sing it, she will. But this creates tensions within her team who want to cut it from her shows for her own good. Those people in high places are the government, the feds, specifically Harry Anslinger (Garrett Hedlund) who founded the United States' "War on Drugs." If they can't stop Holiday from singing, they'll arrest her for her drug use. He hires Jimmy Fletcher (Trevante Rhodes), a Black man posing as a soldier and journalist, to get close to Holiday, Anslinger believing that African Americans are contaminating America and that jazz music is devil's work. While this plan is a success at first, with Holiday spending a year in prison, Fletcher starts to fall in love with Holiday and begins to question his ties.  
When Holiday first heard the lyrics of "Strange Fruit," she thought of her father who was turned away from a hospital and died because of the color of his skin. We don't learn this in the film. The only glimpse of Holiday's childhood we are given is as a young girl on the cusp of womanhood living in a brothel with her mother. We are given quick glimpses of people in her lives like actress Tallulah Bankhead (Natasha Lyonne), but the film doesn't dive deep into the relationship or Holiday's bisexuality. "Anytime somebody colored is doing something right, they paint us out wrong," Mrs. Fletcher says to her son. Lee Daniels' film does exactly this. Mrs. Fletcher speaks of Holiday as a hero and bold for singing about "blood on the leaves and blood at the root" and "Black bodies swingin' in the Southern breeze." She was all these things and more, but the film doesn't feel like a celebration of a person but a look at their trauma. 
Those small moments where we see her interacting with fans, goofing around with her band, and playing the crowd are some of the film's highlights – those moments that make the film more than "Billie Holiday did drugs." And so what? She was flawed. Aren't we all? A legend should be treated as such, and at least we get that in Andra Day's show-stopping performance. When she speaks as Holiday for the first time, you get goosebumps as the difference between them is almost unrecognizable. It's a moving and vulnerable performance as she faces racism, other forms of abuse, and the silencing of her voice. She carries so much of Holiday onstage and off – it's mesmerizing. Day has Holiday's star power and charisma, and the best parts of the film are her commanding the stage, singing with Holiday's strength, and draped in beautiful Paolo Nieddu costuming that's indicative of the research put into recreating some of her most famous looks. 
But these moments also display a lot of the film's technical faults. While these sequences contain stunning closeups on Day performing as Holiday, they are often disrupted by an overabundance of cross-fading and cutting to scenes that take us away from the music and something she's negatively associated with like drugs or toxic men. Some technical choices thrown in are odes to the era, like its (random) use of black and white cinematography or scenes sped up like a silent film. All that these stylized moments do is create a more cloudy image of who Holiday was as a person and as an artist. 
Day finally sings "Strange Fruit" about an hour and a half into the film. As she stares straight into the camera at the audience, it brings both chills and a moment of reflection. We truly see Holiday in that moment. As the powers that be want her to stop singing what's in her soul, the film doesn't let us see it.