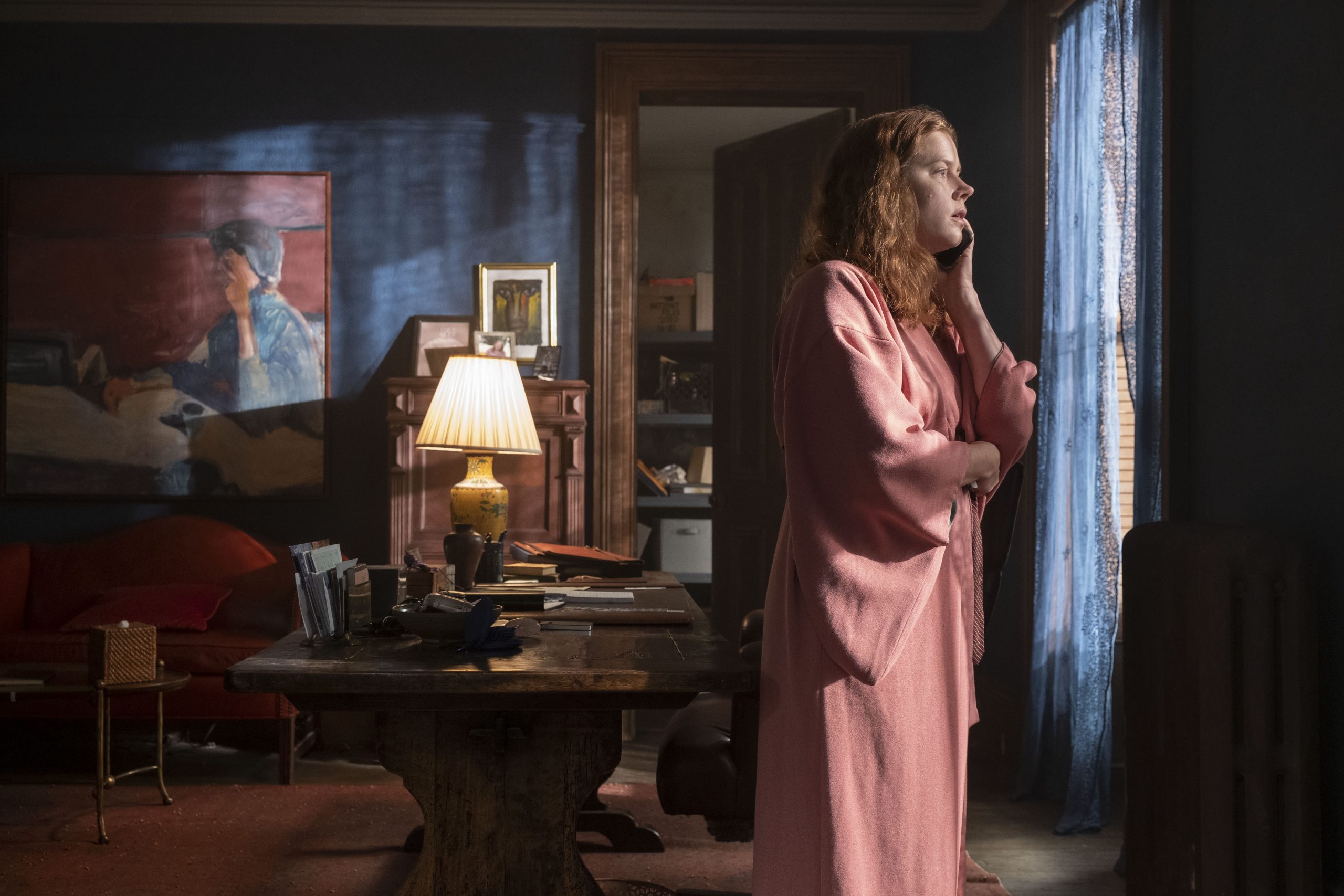 I always say that if a film or television show features a dollhouse then we're in for a ride. The Woman in the Window certainly is a ride, but it's more a rough one through backwoods than coasting along the smooth pavement. A film plagued with rewrites and reshoots more often than not spells disaster, and unfortunately, Amy Adams finds herself in another bad Netflix adaptation. Joe Wright steps out of period drama for an adaptation of the hit novel of the same name by pseudonymous author A. J. Finn that follows the day-to-day life of agoraphobic child psychologist, Anna Fox. The comparisons to Rear Window are inevitable and obvious, as Anna spends much of her time peering out her window and into the homes and lives of her neighbors; watching people live while she's not. Thematically, the film is all about fear, and during times like these, it resonates. The feeling of being locked up in our own home with something stopping us from going outside. Anna living through her neighbors is like being someone who hasn't been vaccinated and watching your fully-vaxxed friends get to live again in somewhat normalcy. We, like Anna, have become scared of things we used to do, things we used to love, things that were simply part of the routine. But routines and lives are upended in a tailspin and that's the case for Anna. The film's script, adapted by Tracy Letts, not only explores her fears and anxiety disorder but the grief and trauma that led to it. A narrative that brings up some essential conversation that is sadly executed in a confounding way as though it's playing with too many inspirations in an attempt to be the ode to classic psychological thrillers.
We often find Anna asleep. In one scene, she has fallen asleep in front of the TV as Alfred Hitchcock's Spellbound plays, filling the entire background with its hypnotic imagery. And as Gregory Peck's character says, "I'm haunted, but I can't see by what," Anna awakens. There are many interludes with visuals like this throughout Wright's film. Dark and snow-filled or psychedelic bursts of color. All beautifully stylized with lighting effects, but their meaning is often frustratingly unclear. Assuming to represent her mental state, the true meaning of specific visuals isn't revealed until much later and we get a glimpse at what lead to her anxiety disorder. Lighting is an important element in the film as she lives in almost total darkness, and her dim surroundings fit the tone as well as contrast perfectly with the homes of her neighbors. One family in particular that she strikes an interest in is The Russells. The new, seemingly perfect, happy family on the block. Anna befriends 15-year-old Ethan (Fred Hechinger), and as a child psychologist, she quickly clues in through Ethan's demeanor that something's wrong at home. And when she meets the woman whom she believes to be the boy's mother, Jane Russell (Julianne Moore), her suspicion grows even more as Jane hints that her husband, Alistair (Gary Oldman), is controlling and abusive. She continues to keep tabs on them through her brownstone window, but when she witnesses something she shouldn't have and Jane disappears, she soon finds her world spiraling out of control. Her shrink says curiosity is healthy, but what happens when it turns into obsession? 
The Woman in the Window is full of mystery. So much so that we often can't tell what's real or what's not; if what Anna has witnessed is all in her head. It turns into a classic noir case of gaslighting as Ethan and Alistair deny everything Anna believes to be true, and it doesn't help that the detective on the case (Brian Tyree Henry) is skeptical of Anna's story. The viewer spends as much time trying to put the pieces together as Anna does try to figure out if she's going crazy or not. It gets confusing at times – you can't tell if she's just dreaming or if everything is caused by the side effects that come with Anna mixing her pills with alcohol. We do, however, gain insight into her thoughts through phone conversations with her husband – they're separated – like a narration. And while those moments create helpful exposition, it's a waste of Anthony Mackie (who's only seen a couple of times on camera). Joining him in a The Falcon and the Winter Soldier reunion is Wyatt Russell playing Anna's tenant David who lives in her basement. A singer-songwriter, he's there to help Anna with whatever she needs. But as the film progresses and Anna learns more about him, she becomes suspicious as to his involvement in the crime across the street. The other performer of note is Julianne Moore as Jane. While she has a brief appearance, it makes the most impact and her interaction with Anna brings some liveliness to the narrative and also Anna's surroundings. Jane is there to ask important questions like, "What do you do all day?" And Moore plays her without a filter. However, when the subject gets serious, both women make a point at changing it. They're both hiding something, and Adams carries Anna's trauma and fear on her shoulders. When Anna feels compelled to go outside, you can feel her anxiety through Adams' expressions and how she holds onto the doorknob for dear life. It's a role that looks draining, and Adams steals the show as always, but there are moments where the script has her veer into melodrama. 
When it's all said and done, though, that third act…oh boy. Perhaps the rewrites did not go as well as planned because it feels like the film has no clear idea of how to conclude this story. Throughout, scenes from classic noirs like Laura and Dark Passage play; thematic elements of thrillers make up the narrative; hints of Giallo are present in the film's visuals and use of color, and of course, it has an intense thriller score at the most anxiety-inducing moments. All these things together and executed perfectly would make for a perfect ode to a decade-spanning genre. However, The Woman in the Window tries too hard, and what makes the final showdown between good guy and bad guy so disastrous. It's the most hilariously cartoonish climax, with stunts executed as though they were studied shot for shot from the early 60s-70s slashers. Everything is exaggerated, unnatural, and baffling. For a film that really isn't the trainwreck that has been predicted for over a year, having a third act that's the worst in recent memory makes you forget everything that came before.