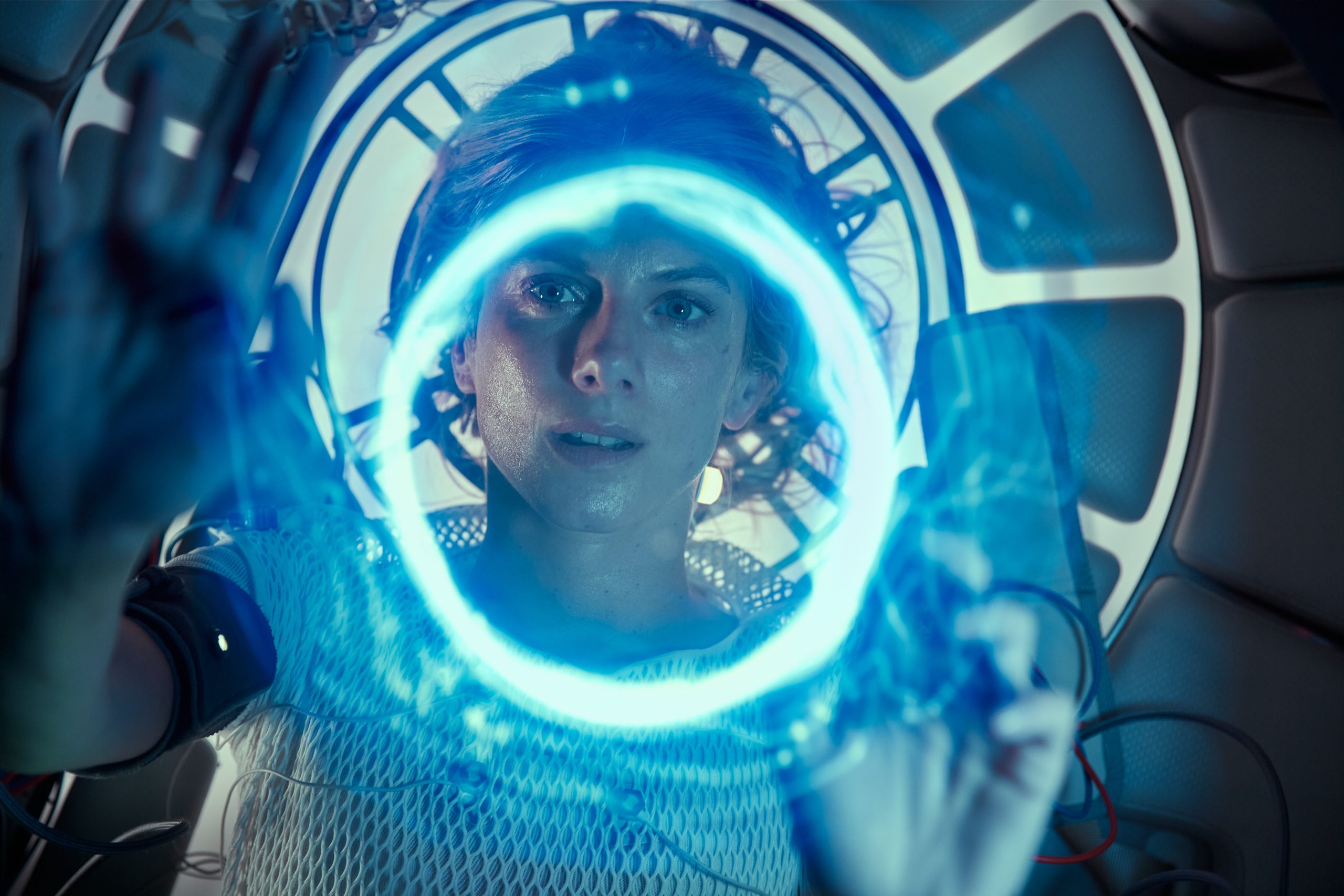 If you don't think you're claustrophobic, you may reconsider after watching Netflix's Oxygen. Following a woman's fight for survival when she wakes up in a cryogenic unit with only 35% oxygen left, Alexandre Aja opens his latest film with the image of a lab rat stuck in a never-ending maze – the exit impossible to see. This setup isn't far from that of his last survival feature, Crawl, about a young woman who gets trapped in a flooded house with a bunch of Florida-size alligators. Both films are about women fighting to survive and using every tool at their disposal to do so. Either on their face or verbally or both, it's obvious as well that another struggle they have is the acceptance that they might die. And for both films, the viewer struggles to accept that possibility, too. The combination of Aja's direction, cinematography by Maxime Alexandre, and Christie LeBlanc's script, the atmosphere created is suffocating; suffocating in the same way as watching a horror film where a character is buried alive. Pounding, screaming, attempting to claw their way out until their fingernails bleed. But wooden coffin or high-tech cryogenic chamber, it doesn't matter. No one can hear you scream. 
Waking up in the darkness of a cryo-chamber, struggling for breath, screaming for help, is a woman who has no clue how she got there or who she is. The woman we later learn is named Liz (Mélanie Laurent), and she only has so many minutes before her oxygen runs out. Reminders of this are constant thanks to MILO (Medial Interface Liasion Operator), an AI programmed to answer her medical needs. But while she feels herself for lumps, any sign of injury or malady, speculating why she's there – Is she sick? Is she dying? She must be, she thinks – she needs more answers than MILO can provide. She asks it for information about herself, even just her name, but it can't answer. "I'm okay. I'm okay," Liz tells herself as she tries to focus and breathe. Flashes of memory soon fill the screen, almost blindingly in contrast to her dim surroundings. Small memories arrive at first, like the sky, the sun, the trees. Then flashes of childhood. A mother. Then flashes of love. A husband. Her memory loss presents a challenge when MILO connects her with the police. The frequent disconnect and the difficulty of even localizing her call, and her mind beginning to play tricks on her, only cause more frustration. The line between fact and fiction begins to blur, for the viewer and also for Liz, as she becomes more connected to life outside her high-tech coffin. She tries everything she can think of to get out, but nothing works, and a feeling of hopelessness begins to creep in.
For a first-time film writing credit, LeBlanc's work here is pretty incredible. It's not a film with the possibility for easy guesses. You never know where it's headed. It's never straightforward, and you can't predict who, what, when, where, why, and how. And that makes for a viewing experience that feels so, so satisfying. Thanks in part to LeBlanc, you become fully invested in Liz's survival, and you feel both the rollercoaster of hope and hopelessness she goes through. Laurent playing Liz with determination also helps. While she's not the sole actor in the film, this is Laurent's show. Carrying the entire narrative on her back, you feel her distress on her face and through the emotions she conveys, whether through her exasperated voice work or her closeups. There are also frightening moments of physicality she produces when we are giving brief glimpses of what will happen if she runs out of oxygen. We should never forget her work as a director, but she proves once again her versatility as an actor here. It feels like she has tackled every genre at this point, and done so successfully. 
Like the intricacy of the cryogenic unit that Liz finds herself in, many connected parts at play make the film the successful surprise that it is. The chamber itself is a cool product of design and technology that feels like a character itself in a way thanks to Mathieu Amalric's voice work as MILO. Maxime Alexandre's camera work also must be noted, especially for its intimacy – and not just because the action takes place in this confined space. When the film takes breaks to focus on Liz's memories, there are a lot of closeups on hands, on touch. As Liz has essentially lost touch with every sense of self, there are moments where she has a sensory overload as she tries to remember even just the smallest of sensations, like the wind on her fingertips and music in her ears. Hands shot in the air in the reflection of the sun, or hands shot stroking piano keys. Amid all this horror and stress, there is also beauty. And the celestial score by Robin Coudert that envelops the whole thing is the icing on the cake.
Alexandre Aja has created with Oxygen an exciting new entry in the sci-fi genre. Full of mystery and drama, the film's shocking revelations, both of circumstance and science, will make you gasp – and not just for air.