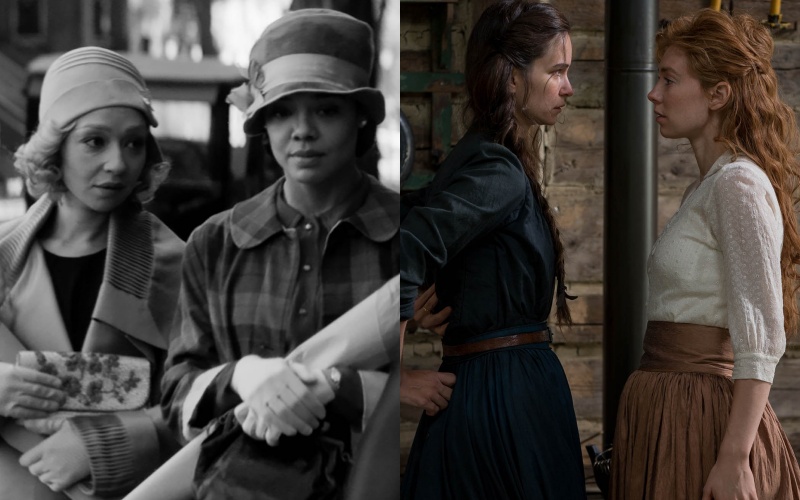 PASSING
As the daughter of a light-skinned biracial woman, and whose African American maternal side had been passing as white for generations, it's fitting that Rebecca Hall chose Nella Larsen's 1929 novel, Passing, to both adapt to screen and make her directorial debut. Racial passing was a way for African Americans to try to evade discrimination against them, to seek better lives, and freedom. But as Passing shows, leaving your community and stripping away a piece of your identity comes at a price and that freedom doesn't mean the same thing for everyone. Racial passing has been seen in films before like in Imitation of Life and Pinky, and amongst the Hollywood elite itself with stars like Merle Oberon who opted to hide her Eurasian parentage, but Hall's film is a rare examination of colorism and racial identity with a depiction of white-passing characters played by Black actresses. As Hall stated in her Sundance introduction, it's a black and white film about how everything is not so black and white in its discussions of race, as well as class, sexuality, motherhood, and the restrictive nature of binaries in general.
What's instantly striking about Passing is its cinematography, especially how it utilizes light. The way it hits characters' faces is mesmerizing, and they have a fascinating reaction to it. This is noticeable almost right away as we introduce Irene (Tessa Thompson). Wearing a signature cloche, she brings it down to her eyes, keeps her head down, and seems to avoid eye contact with everyone around her. But once she walks outside and the sunlight hits her skin, she recoils in fear. This is Irene's first day passing as white and she doesn't want anyone to break her guise – but someone does. As a light-skinned Black woman, she's able to navigate a white world relatively unseen. Sitting in a ritzy whites-only hotel feels like an act of rebellion, but she is visibly frightened. And then, her eyes meet a curious onlooker. Turns out, they know each other. The curious onlooker is a childhood friend named Clare (Ruth Negga), but her skin and hair are as pale as all the white faces in the room and it takes a moment for Irene to realize who she is. Clare's body language is sensual, hinting at perhaps a sexual history between them, but it's a history that remains somewhat ambiguous and Irene continues to look at Clare with a puzzling curiosity as they make their way to Clare's apartment. It becomes clear that Clare has made the decision to pass as white for a better life for herself and her child, but the catch? Her white husband (played by Alexander Skarsgård) doesn't know she's actually Black. Clare asks Irene if she ever thought of passing, but Irene can't because her husband (played by André Holland) is dark-skinned and her children are, too. Clare is the epitome of a socialite. Free to go anywhere and do anything, but Irene resides in Harlem and wants to stay there. The complexities of how we shape our identity are evident here, but nothing is more shocking than to hear Clare's husband speak of African Americans. It's disgusting. So much so that Irene doesn't know what to do but laugh at the ridiculousness of the situation. But as the film plays out, Clare begins to understand that her new life is, ironically, pale. 
Passing feels very much like a film of the era. With its black and white cinematography, delectable costumes and production design, and aspect ratio, but there's something missing. Perhaps this is due to the thin source material. There isn't much that happens and the film relies heavily on its two leads to create a compelling narrative – and they do. The performances of Thompson and Negga are beautiful and admirable, and with the help of Halls' writing, engage in riveting conversations about what freedom and safety mean to them. Clare feels that passing as white is the only option to be free, but Irene believes the opposite. Through their characters, the film touches on what results when we create a façade for ourselves. An unsatisfactory, unhappy life whose cracks like those in a ceiling begin to slowly widen with time before they become too noticeable to ignore. Above all, what it illustrates, purposefully or not, is that the American dream is fictitious and only works for those of a certain color.   
THE WORLD TO COME
An eerie, foreboding score is the soundtrack to a shot of trees – their branches nestled so closely against the other the sky is barely visible. The score resembles the sound of a rusty swing pushing against the wind. A raven squawks. A wife lays awake in bed next to her husband. It's 1856. Abigail (Katherine Waterston) and Dyer (Casey Affleck) are struggling farmers, and the film is partially a look at farm life in its harshest elements. Mona Fastvold's second feature, The World to Come, adapted by Ron Hansen from a story by Jim Shepard, introduces a couple drowning in grief and living void of contentment. The cinematography that's at first cold (literally, it's winter) is juxtaposed with much warmer tones to illustrate happier times. Abigail seems to be the most in grief. No smile forms on her lips until she meets Tallie (Vanessa Kirby).
A new neighbor renting a nearby farm with her husband, Finney (Christopher Abbott), Tallie is a complete contrast from Abigail. While Tallie seems comfortable in her own skin, Abigail is shy and awkward. But slowly, Abigail comes out of her shell and she grows more comfortable in Tallie's presence. Waterston has to essentially play two different people, as the person she is with Tallie is much different than who she is with her husband. An attraction between the women is evident from the start, and as they spend more time together, joke, compliment, speak of their husbands, the responsibilities forced on them, and motherhood, they fall in love. They are both seeking fulfillment, a life less ordinary and joyous. They find that in each other. Waterston's narration creates immense intimacy, and this is also aided by tight closeups on Tallie's face like a painter examining her subject. Kirby manages to communicate so much with just her eyes, and it feels like she's looking deeply through Waterston instead of just at her. The scenes in Tallie's absence are less interesting to the point where we begin to think about her as much as Abigail does when she's with Dyer. We are in yearning with her, sometimes painfully so. And when she lays against her table, arms outstretched, we feel her ecstasy.
Unfortunately, despite however intriguing it is to explore this relationship, the film derails in the third act as the major conflict comes into play. This creates a film that is just like the majority of wlw period films – the prospect of delivering something new thrown out the window. It's not like these stories haven't any merit at all. There's value in their truthfulness about the difficulties of being a (white) lesbian or bisexual woman in these times and it is because of their courage that we (white lesbians and bisexual women) are where we are today. However, it's not as though our history is devoid of any joy or hopefulness, which is what films like these seem to want us to believe. All of this isn't to say the film is awful (it's not), but if filmmakers are unable to convey other facets of this history or are unable to create more diverse storytelling (and more feminine hands on the script), then maybe we should put these period pieces to rest. It's exhausting.