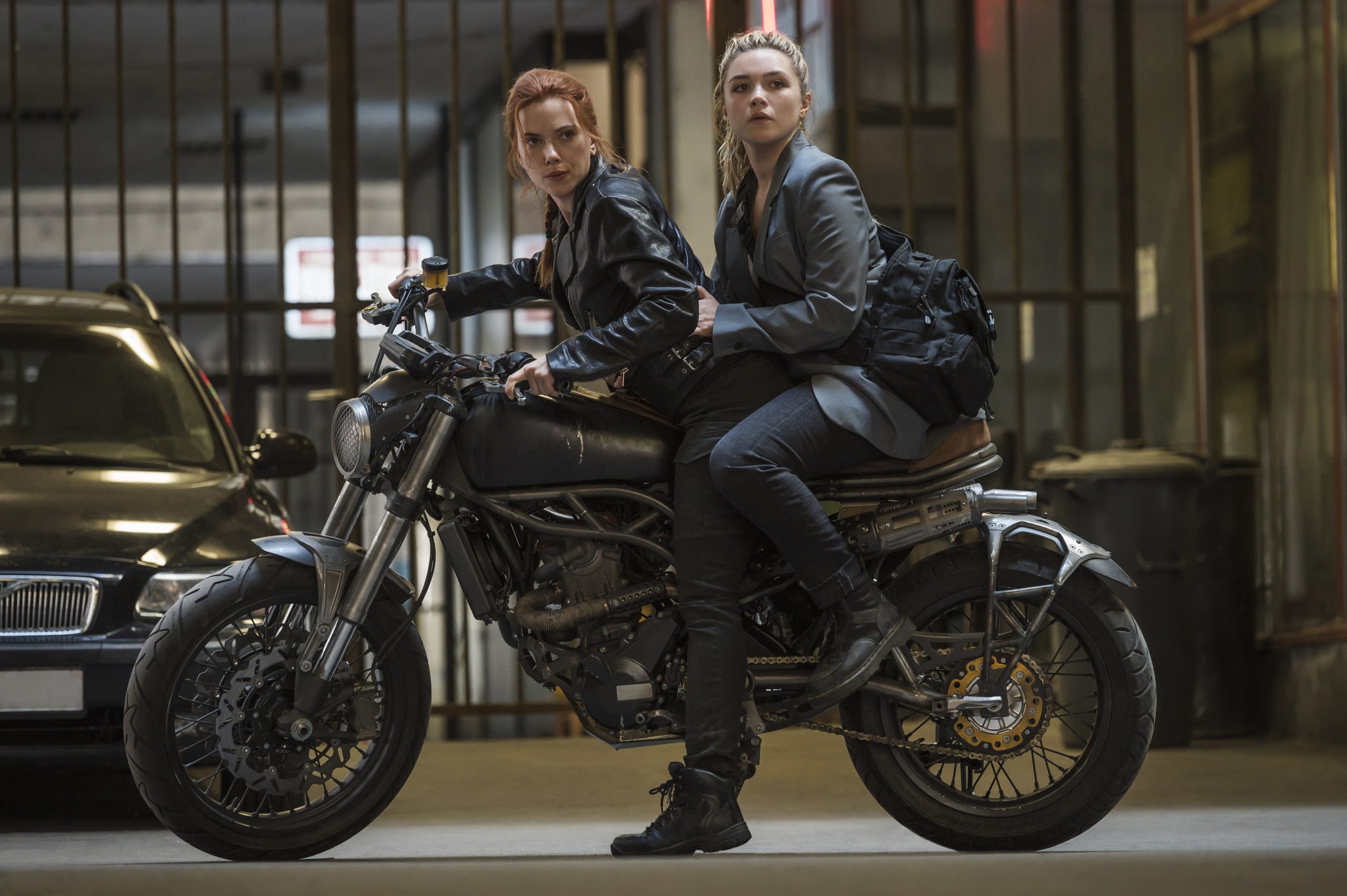 Black Widow, the latest film from Marvel Studio which will release in theaters and stream on Disney+ with Premier Access, centers around the story of Natasha Romanoff and her complicated past. I had a chance to attend a discussion with the stars of the film Scarlett Johansson (Natasha), Florence Pugh (Yelena), Rachel Weisz (Melina), David Harbour (Alexei), director Cate Shortland, and producer and President of Marvel Studios Kevin Feige moderated by Sarah Spain. The group discussed what it was like bringing the solo story of Natasha Romanoff to life.
When asked about how balance Natasha's story with the action we expect in Marvel films Cate responded, "From the beginning when we spoke about the film, we knew that it had to speak to two things, which was Natasha as an individual and then what had happened to her and who she was at the beginning of the film, which was she was completely alone. I wanted it to be really fun and to have this incredible, uh…  Like, I kinda thought it should be like a fairground ride, so really exhilarating.  So we-I suppose we just thought we wanted it to be both, but we wanted it to be raw and that those things would s-seamlessly mesh together. So it was always like putting her at the center of it, but making sure that we didn't let the trauma of her past drag it down, that rather that we came up to answer it.  And we often did that with humor.  
Many wonder how Black Widow will fit into Natasha's story after seeing her give the ultimate sacrifice in Avengers: Endgame. When asked how this film fits into that story Kevin Feige responded, "We very specifically knew there was a large period of her life that we didn't know about.  Not just her childhood, but this period of time between, Civil War and Infinity War.  And that period we felt was ripe to creatively focus on, to be able to discover more about her past and more about her present. And with many of the lovely people you see it gives a hint at the-at the legacy in the future all at the same time, thanks to Cate Shortland."
In the film, we get to see a different side of Natasha that hasn't previous been seen in the previous MCU films when asked about how portraying Natasha was different in Black Widow Scarlett responded, "Natasha at the beginning of this film is really alone for the first time.  Um, you know, she's always been a part of something, either you know, by being of circumstance, she's been a part of starting out with really not participating at all, and being a victim of the Red Room. Then obviously joining Shield and then subsequently the Avengers.  I mean she's always been a part of something that was a-you know, part of a greater whole.  And then suddenly she finds herself sort of floating in this weird in between space and she's off her game.  And she realizes that she's got all this possibility in front of her and it's really suffocating. And then she's blindsided by this person who comes from her past who is just on fire and is a liability and is, like, got this crazy energy of-and is dangerous, and is full of life, and seems… doesn't-isn't needy, but needs her, and you know, it's just she's so thrown off her game in this.  It's great to see her like that.  We never get to see her like that."
One of my favorite themes of the film is the power family which leads us to some fun and interesting new characters. One of my favorite standouts of the film is Florence Pugh who portrays Yelena Belova who is close with Natasha in the film. When asked about how was the experience of portraying Yelena and showcasing the bond Natasha and her have Florence responded, "I think from the get-go, in the script it was very obvious that they have this connection and they have this relationship.  And ultimately despite, you know, her skillset she is that wonderfully, annoying young sibling that says all the right things in all the wrong times. So that wasn't hard at all for me to get into that.  I think something that I, really appreciated was, um, Cate was so welcoming of me to figure out how she thinks and how she moves and what she wears.  And I think for me that was such a fun part of figuring out this character, because she really comes out of the Red Room and can life. I think that was the overall thing.  You know, these two sisters have so much fun together, and amongst all of the pain they've shared."
We also get to meet Melina, played by Rachel Weisz, a strong and brilliant woman who makes a mark in the film. when asked what attracted her to this role Rachel responded, "She's unexpected, she's complex, and she's one of a literal army of women in this movie, some of which are good or evil, sometimes both at once.  Uh, how meaningful is it to you to be in a film that's got this complexity of female characters like-like Melina? I love stories,  about women directed by women.  I love playing opposite women.  But I really loved playing opposite, uh, the Red Guardian, Alexei as well, so I don't wanna leave him out. 
David Harbour brings much humor to the film which I greatly enjoyed. When asked about how he balanced the humor with his character he responded , "Appreciate that.  Um, yes, uh, you know, I mean the funny thing about him is that it's sort of built out of the same-or it hatches from the same egg, the humor of his character because he is filled with grief and remorse about the choices that he's made like, emotionally, spiritually, nutritionally.  Right?  But like, he, uh… I've used that one before.  But he definitely…  You know, the comedy itself comes out of-out of the ego that is built to defend against the feelings of that remorse. So in other words, he has to be some bombastic because he can't stop and feel these things, you-you know, the-the failures that he made.  So he has to build around him a world of, like, a confabulatory, psychotic reality where he the re-the hero.  And that's inherently silly.  I mean that's inherently funny.  Uh, and also the family dynamics themselves are just, uh, are just so fun.  
Black Widow is a blast from beginning to end bring Natasha's story to a fulfilling and satisfying conclusion. Black Widow will release in theaters and on Disney+ with Premier Access on July 9, 2021.