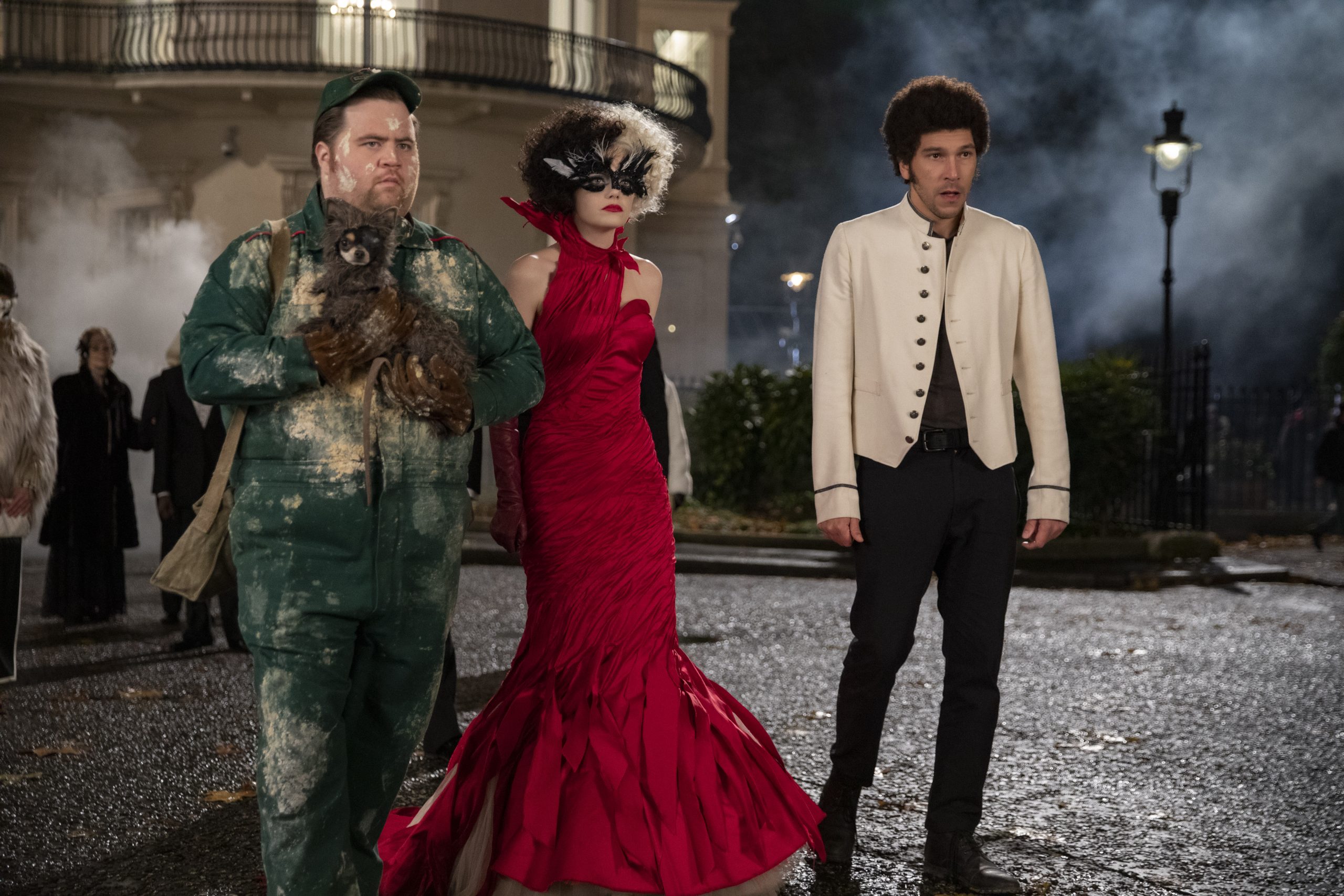 It's the adrenaline. The feeling of being surrounded by a group of people all in eager anticipation. A range of emotions and a crescendo of sounds make the setting feel like it's pulsating. Then, the lights dim, and your favorite rock star rises from beneath the stage surrounded by fog. The crowd screams. The rock star in this case is Cruella de Vil, and her titular film carries the energy of a rock concert. It's a new take on the character, one with a punk attitude and style fitting for the punk revolution. Many are calling it Disney's best live-action film yet (it is) and it may be because it's not simply a shot-for-shot remake (and having The Great and The Favourite screenwriter Tony McNamara certainly helps). Cruella is both familiar and unfamiliar as it takes a look at one of Disney's most famous characters from childhood to early adulthood, with satisfying references to 101 Dalmatians thrown in. It's an origin story, first and foremost, and can be encapsulated by its last needle drop, The Rolling Stones' "Sympathy for the Devil." 
You can't gain sympathy for the devil with a lack of tricks, and Cruella has many up her sleeve to get what she wants. She may be able to make the whole of London direct their sympathies towards her, but unlike Maleficent, it's not a film that rewrites her story to make the audience feel sympathy for its villain – although her story is, as she acknowledges, full of "bad things." With a mischievous smile and a look in her eye that hints at an extreme side, a girl born Estella takes a play on Devil and owns all the wickedness that comes with it. Playing on the aforementioned song's lyrics – "Pleased to meet you / Hope you guess my name / But what's puzzling you / Is the nature of my game" – director Craig Gillespie and the writers create a reintroduction to a character that makes the audience pleased to meet again; a performance by Emma Stone that crafts a fresh portrayal while maintaining the essence of a character whose name needs no guessing; and if the nature of her game may be puzzling to those that come in her crosshairs, we revel in it. 
As all origin stories do, Cruella starts from the beginning. Making a statement from the very start is a babe born with black and white hair. A unique hairstyle is complemented with a different way of thinking. In the moments where Estella (Emma Stone), as she was named, doesn't follow "the way of doing things," as her mother continuously asks her to do, she is given the nickname, "Cruella". And if Cruella ever wants to come out, her mother Catherine (Emily Beecham) says she must suppress her. But Estella was born to challenge the world, and Cruella, acting as a devil on her shoulder, cannot be suppressed. In school, she takes off her uniform blazer, opting instead for a graffitied silver bomber. She's the clear outsider in those early years and gets all the scenes of rebellion that the "weird" girl does in coming-of-age films. In the film's early scenes, we learn where her infamous hatred of dalmatians stems from, and it's one of the many "bad things".
Estella is a child who gets into a whole lot of mischief and grows up to cause even more of it as she makes her way to London and meets two young thieves, Horace (Paul Walter Hauser with a fitting accent) and Jasper (Joel Fry). Together, they form a family of thieves. Thanks to her single, fashion-loving mother, Estella has an eye for design, and that inspires her to sew all her peculiar genius into costume. Now a young adult living a life of thievery, she designs their disguises skillfully and reaps the rewards. But she wants more: To be a fashion designer of renown. When she gets a job working for Baroness von Hellman (Emma Thompson), the queen of couture, Nina Simone's "Feeling Good" plays as Estella embarks on a new, hopefully, better, life.
The relationship between the Baroness and her protege is akin to that of Miranda Priestly and Andrea Sachs in The Devil Wears Prada. The Baroness can see Estella's genius but avoids acknowledging it (out of fear that she's better than her, perhaps). Instead, more often than not, the Baroness treats her like she's worthless. There's a tension there that hits its climax when Estella sees a long-lost necklace, a family heirloom once worn by her mother, around her boss's neck. Acting as the catalyst for the film's action, Estella, with the help of her partners in crime, plan to steal it at the year's biggest party. Turning Cruella into an Ocean's 8-esque heist film, Estella finally lets Cruella come out for good in a fiery entrance. Gorgeously vicious and thus beginning a battle of razor-sharp wit between the two women that goes ablaze. The film fully embraces and acknowledges Cruella as the stone-cold crazy character she is. She's driven by grief-stricken revenge; not of murder (this is a Disney film after all), but of competition and status. Using every trick up her sleeve, which of course involves kidnapping some dalmatians, Cruella tries to take the Baroness's couture crown. 
Surprisingly, it's in this middle section when Cruella plots and executes her revenge where the energy starts to wane as you begin to feel the film's length. However, it's never boring, and a big reason for that is Jenny Beavan. Her costume designs will no doubt receive accolades come next year's awards season. Cruella's style is evident from the very start, but it starts off with the character's definition of simple and only gets bolder as does her ambition. She's fashion-obsessed, but as the world around her is decked out in the familiar '70s styles – floppy hats, funky patterns – she refused to follow trends. Instead, Beavan's designs for her are both dark and wild at the same time. The de Vil Wears Garbage (literally) and makes it look better than anything seen on a runway, and especially better than anything the Baroness could design. Normal is the cruelest insult of them all, the film makes plain, and while Cruella dawns the bold and outrageous, the Baroness wears, with regalness, gowns you could find at the showroom of an haute designer of the era. 
There are many great songs in the film, from work by Supertramp, The Zombies, and Queen, but one of the most memorable uses is Thompson as the Baroness making her introduction to "Five to One" by The Doors. Not only because of how the rhythm fits the tone of the scene and matches how Thompson carries herself in the role but also there's a bit of foreshadowing at play as the lyrics discuss the young toppling the old. But it's hard to imagine that happening when the Baroness is so intimidating, and Thompson's wit and line delivery slice like a knife to the funny bone. And as for the leading Emma, she's perfect in the role. Both wicked and emotional, Stone plays a Jekyll and Hyde-like character whose personalities can easily be differentiated through her performance. As Estella, she's awkward, shy, and uncomfortable in her own skin. As Cruella, she's confident in her quirkiness and sensuous and seductive without really trying to be. Nicholas Britell's score also flawlessly matches the character's personality, like Cruella's energy attempting to drown out Estella's sadness that you can hear just lingering below the surface.  
Another great needle drop in Cruella is Nancy Sinatra's "These Boots Are Made for Walkin'," and that's just what they do until Cruella decides she's going to walk all over everyone who stands in her way. "I am woman, hear me roar," she says. That line comes from a song by Helen Reddy whose lyrics discuss wisdom born of pain and paying the price. There's a price to be paid for walking in wickedness, sure, but the following lyric says, "Look how much I gained." Truth and strength are gained from being ourselves, with the film asking, why not embrace what makes you you and go a little crazy?