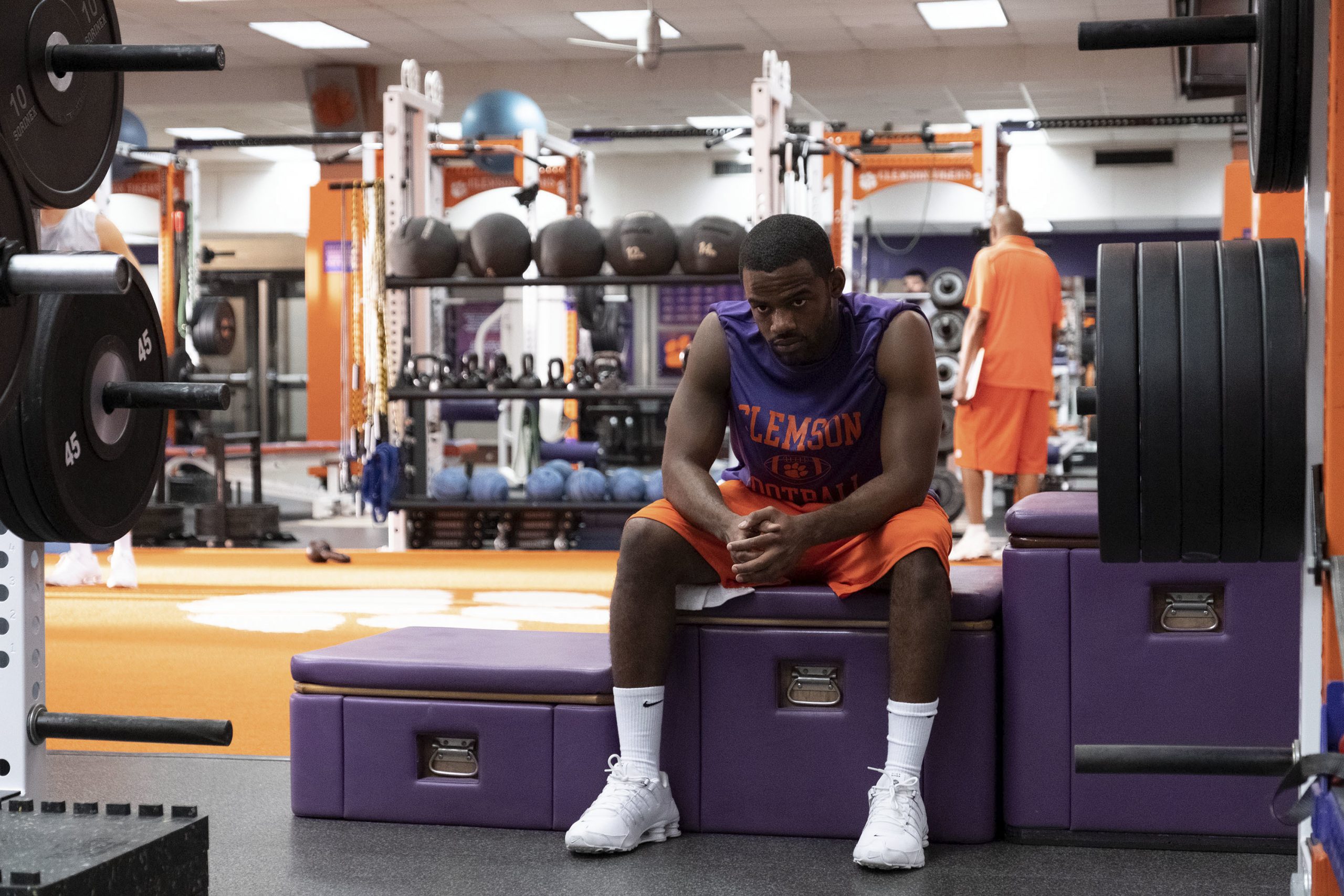 Safety, which is the latest sports drama now streaming on Disney+ is the story of former Clemson University football safety Ray McElrathbey (Jay Reeves), a young man facing a series of challenging circumstances, whose dedication and persistence help him to triumph over repeated adversities. I had a chance to attend a discussion with the stars of Safety Jay Reeves (All American) Thaddeus J. Mixson II (The Grind), Corinne Foxx (47 Meters Down:Uncaged), Hunter Sansone (Stargirl), director Reginald Hudlin (House Party), producer Mark Ciardi (Invincible, and the real-life person Ray-Ray McElrathbey moderated by the Director of Broadcasting, Clemson Athletics Don Munson.  The cast discussed what it was like filming at Clemson University and how was it for Ray McElrathbey to bring his story to life.
When asked if Ray-Ray always wanted to be a Clemson Tiger he responded "Clemson came about late my senior year. I
actually attended a football camp at Clemson that my trainer and some other coaches, sponsored for me. And I was able to receive a scholarship while I was there at the camp. "But there was a gentleman named Burton Burns who was the running back coach who recruited me and made Clemson the family… he was able to portray the family atmosphere that Clemson has come and to always, well, what I've come to always know Clemson to be. So, it was a combination of things. And it was one of the better decisions that I made in my life."
For Ray-Ray having a movie based on his life and time at Clemson University was a surreal experience. When asked about his thoughts on a movie about his life coming to fruition his replied, "It's, uh, it's a surreal experience. It's a wonderful experience more so than anything. Uh, it was something I've been praying for one-one would say. Um, so, I'm blessed and excited to have the opportunity to be here with all the people that are assembled to make this cast and crew and, um, to be part of my life forevermore, uh, in the future. 'Cause this is-it's something I could have never thought of."
Creating a film based on a real person can be very challenging from an editing standpoint. When asked about whether or not there were moments of Ray-Ray's life that didn't make the final cut director Reginald Hudlin said, "You have to be focused about what you're telling, you know, Ray has had a momentous life. He had so many incredible things, happen to him, before the events of the movie, after the events of the movie, um, as Ray would tell you, I'm not a movie. I'm a miniseries. Uh, but, um, you know, even with what we shot, you know, we ended up having to cut wonderful, incredible scenes out.
While the movie focuses on Ray-Ray's story, it also brings to life the amazing football program that Clemson University is known for. When discussing the experiencing of filming at Clemson University during a real football game at half-time producer Mark Ciardi said, "The school was absolutely amazing and supportive from-from the very beginning." "And it was a big, kind of, military operation to-to pull off that, you know, that seven to 10 minutes, whatever it timed out to be."It was
spectacular to watch from my angle. Everyone had their own perspective on it."
Safety upholds the touching true story of Ray-Ray McElrathbey and the life long bond of his personal and professional journey with the Clemson Tigers. Safety is currently streaming on Disney+ and is a must-watch for the entire family.