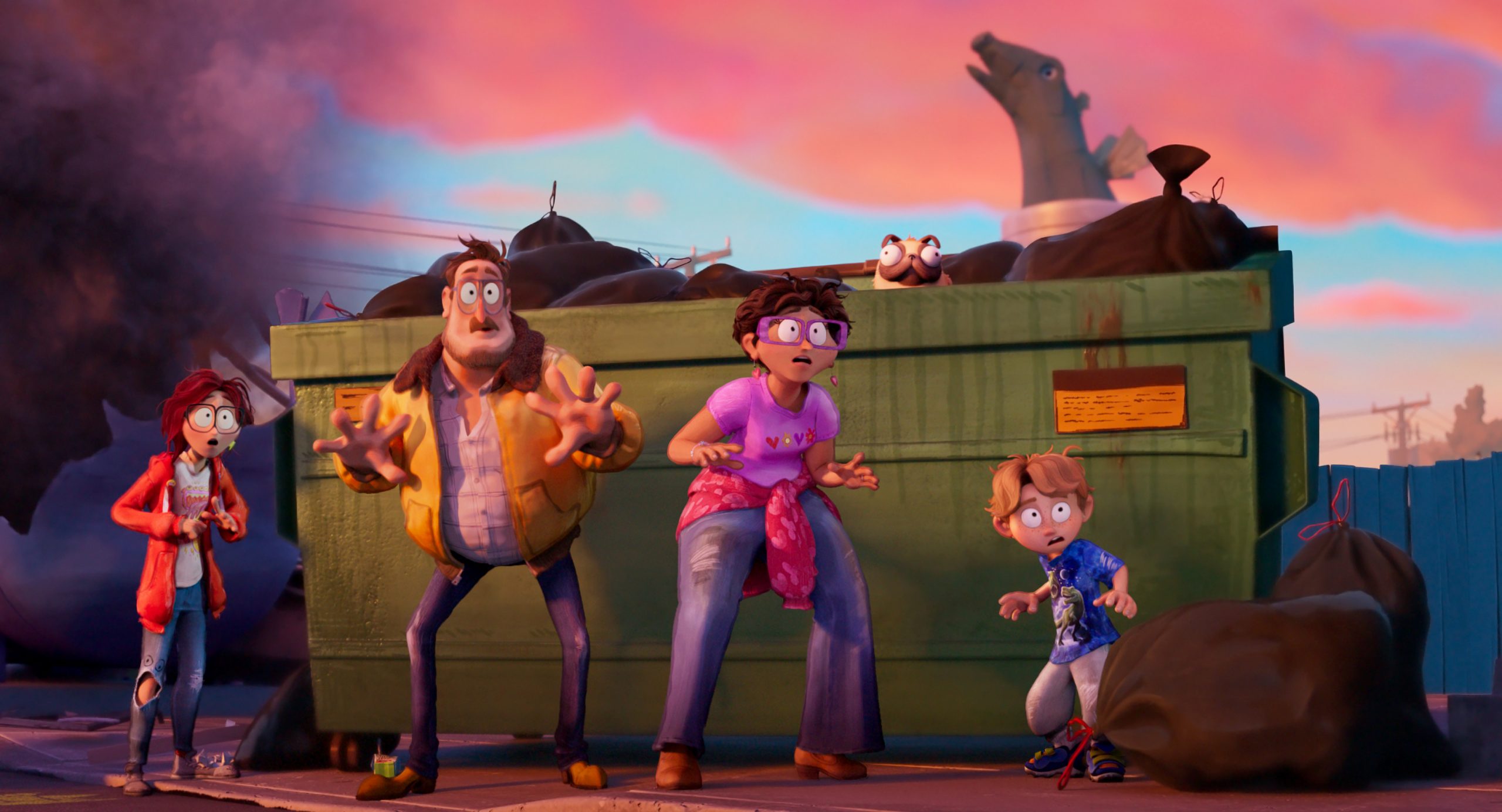 There's something special about those films that can pull you out of a negative spiral, even just for two hours. The Mitchells vs. The Machines is such a film. And after the year we've had, it feels needed to escape into a wondrous, action-fuelled explosion of luscious splendor. The visually striking frames come as no surprise when they've been created by the same hands who gave us Spider-Man: Into the Spider-Verse. The Mitchells vs. The Machines leaves you in awe as it follows the world's weirdest family on their journey to save the world from a robot apocalypse. While getting attacked by everything from smartphones, smart appliances, and Furbys, the film embraces and celebrates the Mitchells' quirkiness. Michael Rianda and Jeff Rowe's feature directorial debut is a heartfelt ode to an imperfect family and speaks to the importance of connection. 
In an era of fast and evolving technology, social media, and Zoom, we feel more connected than ever before – but are we really? The Mitchells' awkward attempt at dinner table conversation away from their phones definitely suggests the opposite. As the teenage Katie (Abbi Jacobson) points out, every family has challenges, but hers, she believes, only has weaknesses. They're a family of outsiders, but their renderings and personalities mesh so well together. They're like the Incredibles but super weird, super messy, and without the super. The film is told from Katie's perspective. The big sister to her dinosaur-obsessed brother, Aaron (Michael Rianda), she's basically #FilmTwitter in animation form. She loves watching movies, loves talking about movies, loves making movies (starring her adorable pug Monchi), and is on her way to film school. She's trying to figure herself out and find "her people," a feeling familiar to any at 17, and especially if you're in a constant battle with one of your parents. It's clear from Katie's style and Pride pin that she's queer, but it's never brought up until the very end – a refreshing pattern in film these days. It's also never the cause of conflict between her and her father. We've all been there in some way – one parent, Katie's positive, upbeat mom Linda (Maya Rudolph) tries her best to be supportive, while Katie's dad Rick (Danny McBride) just doesn't bother to understand. It's all about the future stability of their child and not about the importance of pursuing their dreams. Through this dynamic, the film explores how the relationship with our parents changes as we grow more into ourselves and form our identity as individuals. Katie's dad is a guy who can fix anything, but can he fix their relationship? He certainly tries, with one last dose of family bonding: a cross-country road trip to disasterville. And, literally, when a robot apocalypse puts the brakes on their plans and this group of weirdos must set aside their differences and embrace what makes them the Mitchells to save the world. 
This family is really brought together by the excellent voice work of its cast. But the standout isn't a part of the Mitchell family: It's Olivia Colman as the film's villain. She's absolutely hilarious in her line delivery as the antagonist in a surprising and small form. However, it's the film's artistic style that stands above anything else. The creators use Katie's creativity and infuse it into every frame as though she's editing the film herself. There are many freeze-frame moments where she adds memes, filters, and also hand drawings are created on top of the CG imagery. In the film's press notes, Production Designer Lindsey Olivares adds that "there's a young energy and freedom that comes from taking a very high-quality final frame and drawing directly over it like a teenager." And you can really feel that energy in this combination of traditional and 3D. It makes it much more unique, illustrative, and that much more entertaining.  
In relying on both old and new techniques to produce an animated work, The Mitchells vs. The Machines perhaps unintentionally speaks to the fact that while new technology is good for some things, it will never match how things used to be. The feeling of being unplugged and speaking with someone face to face. The film openly criticizes tech monopolies and their use of our data and shows how every new piece of technology is obsolete almost as soon as it's put on the market. And as things are being generated faster than ever before, and AI becomes more advanced, it asks: What if AI can no longer be controlled or becomes controlled by someone other than its creator? Above all, though, like the film's original title, Connected, The Mitchells vs. The Machines is a film about building and keeping that connection that we all need to live.