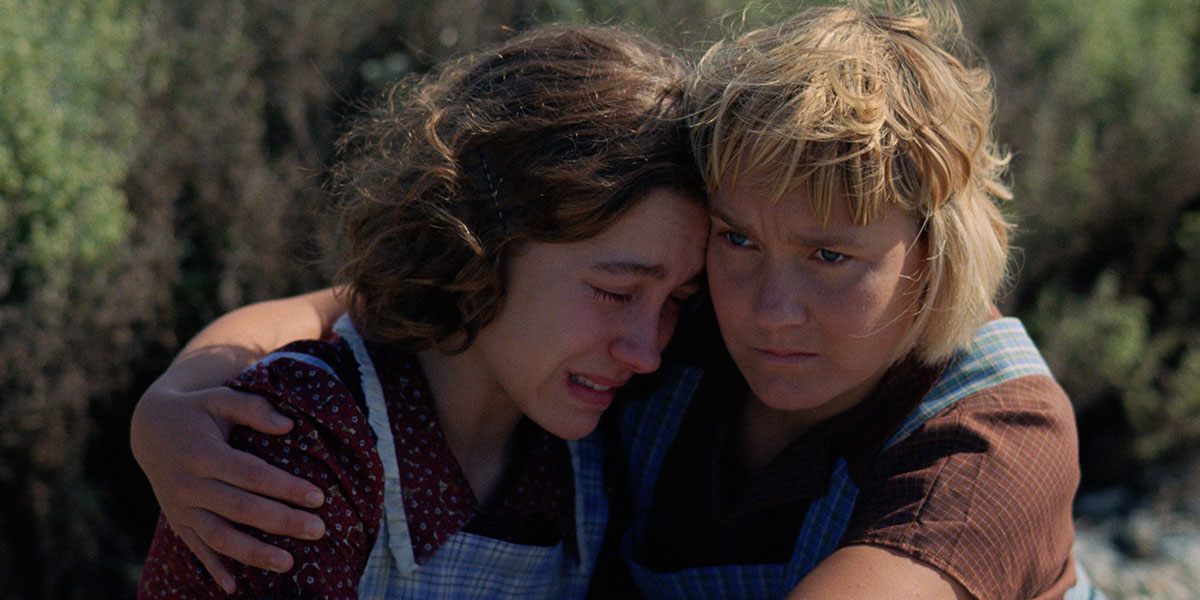 Aristotle and Dante Discover the Secrets of the Universe
Based on the novel of the same name by Benjamin Alire Sáenz, Aristotle and Dante takes its audience on a journey of self-discovery, acceptance, and love in the middle of the AIDS crisis. As two boys navigate the complexities of being out and proud in 1987 El Paso, Texas, writer-director Aitch Alberto's lens, which hones in on male vulnerability and masculinity, is both empathetic and refreshing.
Love comes in unexpected ways, and for Aristotle (Max Pelayo), it's at the pool one summer day. Ari is determined not to spend another summer not knowing how to swim. He takes the plunge, submerging himself underwater. When he rises back to the surface, Dante (Reese Gonzales) is there to greet him. It's a superb metaphor for conquering fears and emerging with a new sense of courage to embrace who you are. Dante will bring that out in him. This new friend is the light to his dark view of the world, and Dante holds Ari's head above water. 
Aristotle and Dante feels like a warm hug. Moments of conflict are never focused on for long, but instead, the bravery and beauty that surround them are emphasized. The film's two charming leads have a chemistry that reminds the audience of the experience of first love; of finding that spark, or that bit of magic, in another person. The titular pair learn to figure out who they are in the world, despite all the obstacles that make them want to give up. They find a friendship that brings out the best in them and a love that opens the secrets of the universe. Joyous and heartfelt, it's a magical gem.
Bones of Crows
Surrounded by devastatingly beautiful imagery and transcendent cinematography is the horror of Canada's past. Marie Clements takes on a difficult subject with both forcefulness and delicacy in Bones of Crows. The colonial violence and trauma that many Indigenous people experience in residential schools need more than a statutory day of reconciliation to amend. Clements reminds the audience of that – and more.  
In 1930s Manitoba, a Cree family sings together, basking in the beautiful glow of sunlight that Vince Arvidson's camera plays with breathtakingly. First and foremost, the film is a celebration of Cree tradition and culture, before it's stripped away from the film's main character, Aline Spears. Moments of joy are suddenly pierced by the heart-wrenching sound of a mother's anguished screams. It's a devastating watch, especially when children are separated from their parents and never know if and when they'll ever be reunited. 
Bones of Crows spans a lifetime, exploring the individual and generational trauma that these residential schools have caused. The film follows Aline (played by Grace Dove in a powerful performance) from childhood to adulthood; as a Canadian Air Force morse code operator during WWII to a wife and mother. Confronting the past that haunts her every moment gives her the motivation to fight for justice and learn to heal. Missing and murdered Indigenous women, and those of the community who are homeless and struggling with addiction, all have a root cause. The schools may have closed, but we've failed to open our doors to Indigenous people – to make them feel welcome and to help them succeed. The film isn't unafraid to shame the actions of our past and present; of our false promises and empty apologies. It's a never-ending mess that they've had to try to clean up themselves. The film speaks poignantly to this in its glorious tribute to all those who give all they have to battle systemic racism for those of the future. It's an inspiring tale of resilience and an ode to Indigenous strength. 
Falcon Lake
Falcon Lake is an assured feature debut from Charlotte Le Bon. Based on the graphic novel Une Soeur by Bastien Vives, the film follows Bastien (Joseph Engel)'s coming of age as he and his family travel to Canada to visit his mother's friend and her family. Le Bon's script, in collaboration with François Choquet, perfectly captures a summer where innocence is lost as adulthood creeps ever closer – but with an eerie gothic ambiance.
The film centers on the relationship that forms between Bastien and his mother's friend's daughter, Chloe (Sara Montpetit). She is a rebellious, moody teen in comparison to the shy Bastien. During pivotal years when you're starting to make more and more self-discoveries, Chloe challenges him to overcome fears and to not be afraid to have those first-time experiences, like drinking and sex. They are all normal things we become more curious about in our teenage years and they're presented with care. You can see from the look in his eyes that a crush is forming, and he quickly learns the hopelessness of first love. 
The tone of the film is quite dark for its subject matter, especially all the macabre imagery of Chloe floating face down in the lake, sitting drenched on her bed and staring into the camera like a ghost, or pretending to be washed up from the lake after drowning. The mesmerizing cinematography plays with this, too. It will go from focusing on the sparkle of the sun dancing on the water to a dead tree on the shore or focusing on the darkness that lies within the deep forest that surrounds them. The camera captures nature in both a serene and haunting way. The film's subtle horror elements and Chloe's obsession with the afterlife come from a story she tells Bastien of a child who drowned in the lake, with his ghost now haunting it. Ghostly cries in the distance are debunked by Chloe's playful scares. It's an act of desperation to cling to childhood make-believe before it disappears.
Unruly
Malou Reymann's Unruly tells the true story of a Danish women's home on the island of Sprogø that institutionalized everyone from the mentally ill to the rebellious who threatened social order. Between 1923 to 1961, women, even mothers separated from their children, spent years of their lives in the home enduring heartbreaking cruelty. 
The film follows Maren (Emilie Kroyer Koppel), a rebellious teenager who, after being fired from her sewing factory job, runs away from home. When child welfare and the "public morals police" step in, Maren's mother is told that she will be sent to prison for vagrancy, or she can go to the Sprogø Girls' Home. Maren can't be controlled, so she's institutionalized. Outside the home may be a beautiful garden with blooming flowers, but inside the women's petals are plucked. The more she learns about the girls and the home, the more she realizes that she may be stuck there forever. She sparks a rebellion among the girls who have been made to believe that good behavior and following the rules will get them their freedom. 
The film tackles everything from mental illness to sterilization laws and anti-abortion. The control over these women and their bodies, unfortunately, still carries relevancy. The performances are outstanding and powerfully affecting. The film is at times devastating, but also joyous – both bringing about strong emotions. Female strength cannot be suppressed and the film is a reminder that our rebellion can no longer be silenced.