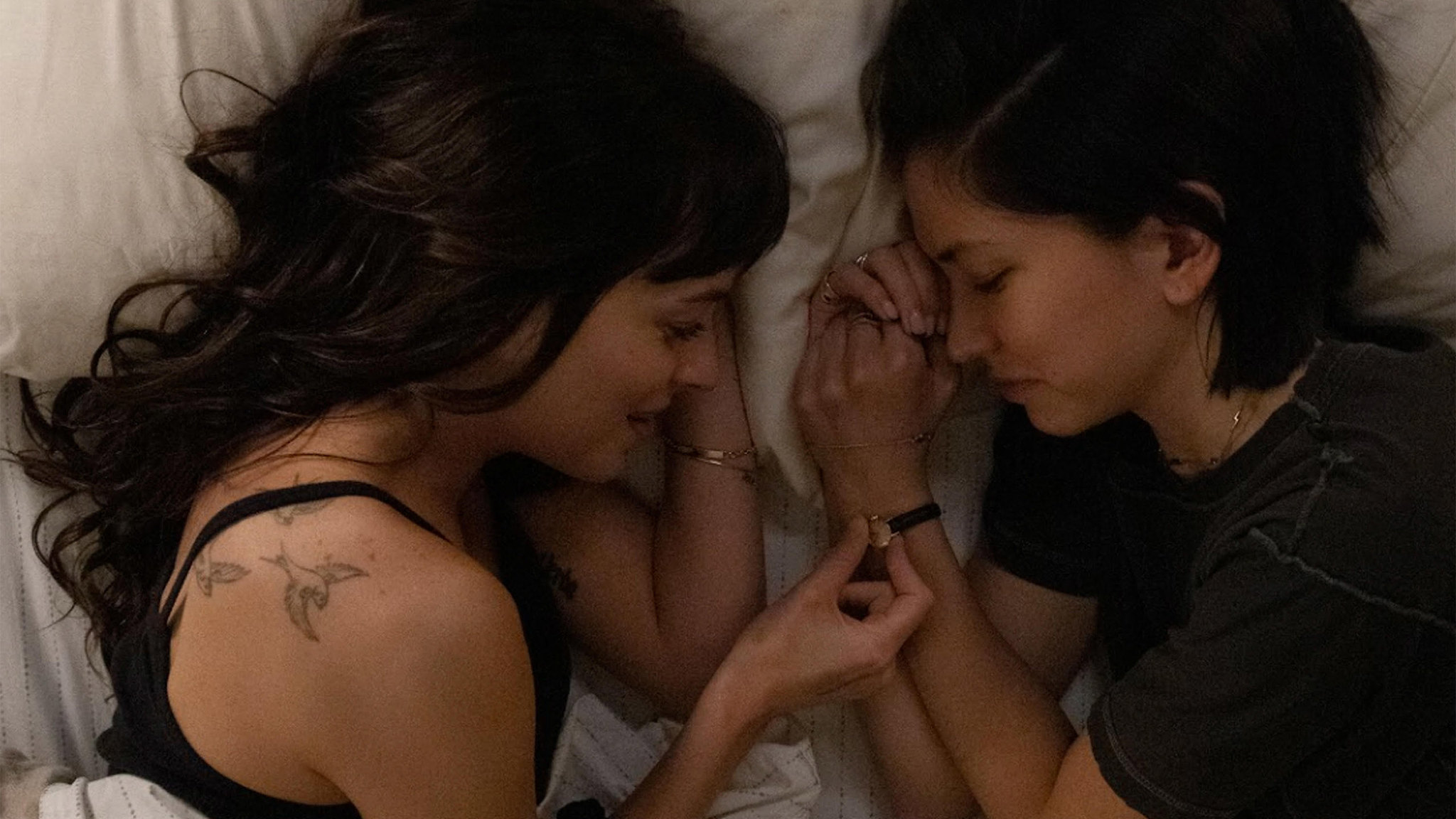 Whether to close friends or relatives, coming out is one of the most difficult events in a person's life. Tig Notaro and Stephanie Allynne, a real-life married couple of actors, explore platonic female friendship in their directorial debut and emphasize that each and every person's coming out is important, regardless of age.
Lucy (Dakota Johnson) and Jane (Sonoya Mizuno) have known each other since they were children. Now in her 30s, Jane receives a big promotion that's supposed to relocate her to London and Lucy realizes she's at a crossroads after hearing the news. She's not only struggling in her boring, unchallenging job as a spa receptionist, where her only highlight is chatting with flirty Brittany (Kiersey Clemons). She's also lost in her personal life, especially after discovering the truth about her sexuality. When Jane prepares herself for the relocation, Lucy attempts to understand the twists and turns of life as big changes await both of them.
Am I OK? deserves to be treasured for a variety of reasons. One of the highlights is Dakota Johnson's excellent performance as Luce, an aspiring artist and a budding lesbian who is slightly shy and anxious but kind and warm. The complexity and depth of the character are also heavily influenced by the script. Lauren Pomerantz, the Am I OK? scriptwriter, brilliantly captures the essence of the main character, making her a relatable figure, particularly for the LGBTQ+ audience.
Despite the initial notion, the comedy-drama by Notaro and Allynne isn't particularly focused on the "get a girl" narrative as it initially appears. Instead, we are given a "grow and evolve" story set in the vibrant city of Los Angeles through the lens of a woman who just learned something beautiful about herself. Throughout the film, the audience sees Johnson's character develop into an independent, creative, and self-assured woman. The directors adeptly direct her journey of self-discovery and provide an intriguing, ear-pleasing soundtrack scored by Craig Wedren and Annie Clark (St. Vincent).
The focus of the film is on Lucy's internal conflict. It especially emerges in scenes where close-up shots of the facial play are utilized to showcase her anxiety or uncertainty. One remarkably moving scene becomes a pivotal point in the narrative of Am I OK?, and it will undoubtedly elicit the most discussion. Notaro and Allynne depict Lucy's emotional coming out to Jane in a powerful and moving scene. The scene is both memorable and intimate. How many of us can recall the pivotal moment when we came out to our best friend? Probably plenty. It's a sacred moment, a defining moment in the life of a queer person, and that's why it's so important and
beautiful to depict it in film and cinema, just as Notaro and Allynne do.
In some moments, Am I OK? resembles a lesbian fanfiction plot, which is a thoroughly buoyant thing about the film. The scenes with Lucy and Brittany, in particular, are exceptionally endearing and even nostalgic as we observe Lucy's attraction and first female crush growing. The film is a perfect blend of a touching depiction of female friendship and the significance of
evolving and discovering something new, no matter the age. It's clear that the cast and crew put a lot of soul, heart, and emotion into making this film to provide a reflection on the fact that it's never too late to come out. When it comes to it, there is no such thing as "late."
Am I OK? is an excellent film for people who discover their sexual identity later in life. The production also has a strong comedic side and it manifests in many humorous situations between Jane and Lucy. Still, nothing beats Tig Notaro, a stand-up comedian, who never fails to deliver a great cameo, especially in her Gandalf-like, hammock-leading-session version that we see in Am I OK?.
Although the film talks about various topics, we can all agree that the most important is the issue of coming out depicted in the flick. Thanks to the original script and adequate direction, Am I OK? has a chance to become a timeless picture. It's comforting, warm, and just the perfect film to see with a best friend.